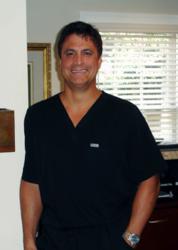 Durham, NC (PRWEB) February 11, 2013
Dr. Jason Cataldo from Periodontics and Dental Implants of North Carolina, is a periodontist specially trained in laser surgery and is now offering the Laser Assisted New Attachment Procedure to his local patients. He understands how common gum disease is, and that many patients are suffering from this problem but not seeking treatment. In fact, out of the millions of Americans that have periodontal disease, only small percentages are actually doing something about it. With the new LANAP laser surgery, Dr. Cataldo is hoping more patients will get the help they need.
LANAP utilizes a very specialized laser that selectively attacks only the bacteria and diseased gum tissue. It does not damage healthy gum tissue and stimulates the bone to regenerate. This means that the diseased gums and bacteria can be removed without the need for a scalpel. More gum tissue can be saved, which means receding gums are less likely to occur.
The laser surgery causes little, if any, pain to the patient, and the patient can usually resume everyday activities within a short time of completing the procedure. Now people won't need to schedule lots of time off of work to get the dental assistance they need. As a periodontist, Dr. Cataldo knows how insidious gum disease can be and provides help for his patients who are suffering.
Allowing gum disease to go unchecked can lead to a variety of dental issues and has been connected to other serious health problems. Receiving treatment can eliminate the problem. Learn more about LANAP laser surgery at http://www.northcarolinaperiodontist.com.
Periodontics and Dental Implants of North Carolina is a periodontal practice offering patients personalized dental care for Durham, NC. Dr. Jason Cataldo attended college at the University of Buffalo School of Dental Medicine, completed a general practice residency at Michael Reese Hospital in Chicago, IL, and completed his periodontal training at Case Western Reserve University in Cleveland, OH. He is board certified in periodontology and an Adjunct faculty at the University of North Carolina at Chapel Hill. Dr. Cataldo is part of one percent of dental professionals providing the most recent FDA cleared laser procedure for gum disease and periodontal treatment. To learn more about Periodontics and Dental Implants of North Carolina and their dental services visit their website at http://www.northcarolinaperiodontist.com and call (919) 724-4273.