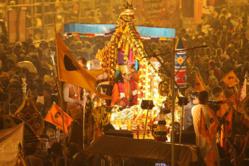 (PRWEB) February 10, 2013
On 10 February 2013, on the auspicious occasion of the Mouni Amavasya snan (rare celestial alignment of planets gracing the Prayag confluence), a grand procession started in the wee hours of the morning from the pandal of Nithyananda Dhyanapeetam towards the triveni sangam (confluence of the three sacred rivers Ganga, Yamuna and Saraswati). The ornate traditional procession was led by its founder and Mahamandaleshwar of the ancient Nirvani Akhada - Swami Nithyananda, culminating in the dip in the sacred waters. The maha snan today will see an estimated 40 million people taking a dip on the Swami Nithyananda has been at the Maha Kumbh Mela participating in the world's largest spiritual gathering with an estimated 250 million people.
Nithyananda Dhyanapeetam has been providing anna daan (free food) everyday to thousands of people throughout from the start of the Maha Kumbh Mela in January. It has also been hosting various sacred Vedic rituals like Rudra Homa, as well as spiritual discourses and meditations throughout the day by Swami Nithyananda himself and his acharyas (ordained teachers), watched and participated in by multitude of people in the packed hall.
Various spiritual leaders and dignitaries from diverse cultures in the Vedic tradition have also been gracing the Nithyanand Dhyanapeetam tent. These include Sri Jayendra Swaraswati, peethadhipati of the Kanchi Kaamakoti Muth, Kanchi, Tamil Nadu; swamis from Muruga Muth, Karnataka; Swami Vishwananda; Sri Vishwadhar Swami from Ramakrishna Muth headquarters in Belur, West Bengal; Chandra Swami from Vishwadharma Yatan Trust; Brahmakumari sannyasis; Ram Snehi Muth sannyasis from Rajasthan; Sri Swami Anubhavananda, a privrajaka sadhu from Bombay; Kemkaji from Geeta Press, Patanjali Productions – Norwegian team, among others.
The traditional respects included giving bhandaras (food offerings) to sadhus and sannyasis of all traditions, as well as taking bhandaras from the various akhadas (spiritual organizations) participating in the Maha Kumbh Mela.
On 12th February, 2013, as yet another offering of respect to the Vedic tradition, Nithyananda Dhyanapeetam will be giving a huge bhandara feeding over 10000 sadhus.
About His Holiness Paramahamsa Nithyananda:
His Holiness Paramahamsa Nithyananda, who is the spiritual guide for the Nithyananda Yoga & Meditation University is a global leader in the science of enlightenment. Nithyananda is revered as a living saint and a Avatar (divine incarnation) by millions worldwide.
He is the most-watched spiritual teacher on YouTube.com with more than 16 million views, and the author of more than 300 books published in 27 global languages. Nithyananda has been named among the world's top 100 most spiritually influential personalities of 2012. An accomplished yogi and gifted spiritual healer, Paramahamsa Nithyananda has healed diseases ranging from migraine to cancer, often with a single initiation.
For close to a decade now, Paramahamsa Nithyananda has been working with scientists and researchers to demystify the yogic sciences of the Universe, including kundalini awakening, DNA activation, brain-cell regeneration, levitation, materialization and yogic age-reversal.