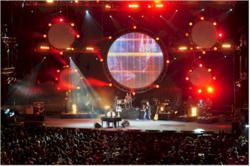 José Cid is a timeless artist, yesterday, today and forever.
Washington, DC and Lisbon, Portugal (PRWEB) February 14, 2013
Mark Sonder Productions, a leading, worldwide, award-winning entertainment agency has announced that the international pop/rock superstar, José Cid, will perform in his native Portugal in the city of Porto on March 8.
José Cid ended the year 2012 with a large concert (7000 capacity) at Campo Pequeno, a show sold out in Lisbon. (A live CD is being prepared for release this year). Prepare now for a great party in the north of the country, the mythical room Oporto Coliseum in Porto on March 8.
Speaking of, José Cid is speaking about one of the greatest talents revealed by Portuguese music as anywhere in the world -- the rare artists who can be on top for 40 years. José Cid is this small group in their own right, long recognized and featured in dozens of unforgettable and inspirational songs ranging from ethnic to fado, from pop to rock, and even from folk to jazz. This versatility assured José Cid a very special place in the hearts of the audience. Composer and performer of some of the greatest successes of the Portuguese national song, "Yesterday, Today and Tomorrow," "It's Snowing in New York," "Mais um Dia," and the latest "2 Many Nights" are just some of the tunes the public will be able to listen and sing to in unison with José, that it will not be just a concert, but a big party. José Cid is a timeless artist, yesterday, today and forever.
Cid's concert is a "great thing for Porto," said a government official who did not wish to be identified. "The whole country is depressed. Cid appears to be a one man hurricane trying to hold up the spirits of his country." Porto is a beautiful city--the home of the port industry, lots of wonderful old world buildings and jazzy restaurants.
To engage José Cid or other headline entertainers worldwide for meetings, conventions, trade shows, exhibitions, congresses, special events, casinos and concerts, please call +1-540-636-1640.
# # #
Mark Sonder Productions, Inc. is an award winning entertainment agency that delivers complete program packages to corporations, associations, facilities, casinos, concerts and special events worldwide, since 1985.
Photo of José Cid: http://marksonderproductions.com/headline/images/JoseCid57PR.jpg
To Purchase Tickets: http://www.ticketline.pt/Espectaculo.aspx?IdEspectaculo=5998