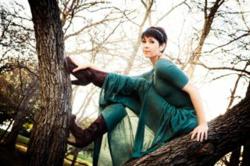 Heather McCready makes music to calm the chaotic soul. The Arlington-based folk singer-songwriter zeroes in on lovely melodies, thoughtful lyrics and the comfort of uncluttered instrumentation. Mario Tarradell, Dallas Morning News Music Critic
Dallas, Texas (PRWEB) February 12, 2013
Folk artist and singer/songwriter, Heather McCready, is not only recognized in the Dallas/ Forth Worth area for her passionate involvement in suicide prevention but is also earning high praise by the artistic community for her talents in creative folk music writing and performance. Heather has been featured over 6 times in the last 2 years on "Good Day Dallas", "Good Morning Texas, and "Chanel 11 Evening News". She now has five full-length critically acclaimed CD's. When only 2 years professionally in the music industry Heather made her mark by getting the cover and feature story in "Buddy, the Original Texas Music Magazine". And by the looks of it today, it is safe to say, Heather McCready, brimming with talent optimism and determination is sure to be going places!
On February 8th, Heather McCready sat down with discriminating music critic, Mario Tarradell, of "The Dallas Morning News" for a video performance and engaging fist time face- to- face interview about her music and being bipolar. She selected the mesmerizing song, "Neverland", title song of her second CD, about escape, something Heather knows a lot about to sing. When she speaks in the interview she does so with uncanny poise in a down-to-earth, relatable manner, which is causing people to begin listening. Heather's hope is to put a new face on mental illness by speaking unapologetically about her family's history with multiple suicides, her own suicide attempt and subsequent treatment with Electro-Convulsant Therapy (Ect, or Shock Treatments) which she attributes to saving her life. "The stigmas wont' stop till survivors will talk", Heather says with a smile. It is a new slogan she is using for T-Shirts on her website, hoping her fans and fellow advocates will latch on to. She has quite a lot of support on her Facebook Page "Join Heather McCready to Fight for Mental Health Awareness". She has a point, we don't hear the treatment stories. There is still that hush-hushed fearful silence holding us all back while the negative images of violence associated with mental illness continue to bombard the media and our heads.What other point of reference will most people have?
Here is Heather McCready with Renowned Producer/Arranger, Milo Deering performing the title song "Neverland."
Mario Tarradell, respected critic of the The Dallas Morning News Interviews Heather McCready.
Heather is currently serves on the board of Mental Health America in Greater Tarrant County, (http://www.mhatc.org) a non-profit organization dedicated to connecting people who need help with those who can help them. Heather first met up with Executive Director, Lee LeGrice at a Charity Concert Heather gave for the benefit of the organization (she lives in Tarrant County) at the well-known listening concert venue, Uncle Calvin's Coffeehouse in Dallas, Texas. Heather will be in concert there again February 22nd for a concert that is sure to be moving both in music and meaning. Tickets are available at UncleCalvins.org.
Contact Heather McCready for booking by writing elizabeth@heathermccreadymusic.com
heathermccready.com
Travelin'Girl Productions, LLC
817-231-0343 business/fax line
Facebook Pages:
"Heather McCready Music"
"Join Heather McCready To Fight For Mental Health Awareness"
Twitter:
@TravelinGirl1