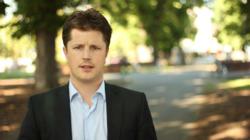 Anyone who has a product, a service, an expertise, a software, or events that they would like to sell, a service, a software, or event, or you're an expert at something, then that's who should be doing webinars
Melbourne, Au (PRWEB) February 14, 2013
The Multimedia Marketing Show with Jake Hower recently released a podcast interview of webinar expert Lewis Howes.
"Who should be holding webinars?" asked Jake Hower.
"Anyone who has a product, a service, an expertise, a software, or events that they would like to sell. You could also have some type of membership side, or things like that, but if you've got a product, a service, a software, or event, or you're an expert at something, then that's who should be doing webinars," answered Lewis Howes.
Hower then asked Howes to walk him through a live case study of how to do a webinar to sell video training services.
"Your product is a digital course. It's a live training. It's something like that, correct?" asked Howes.
Hower answered yes.
"If you're going to do a webinar, and you want to generate some sales for this digital product, then basically, you'd want to, the first thing is, you need to either have your own email list or you need to find someone who can promote you, who has an email list or an audience online," said Howes.
"You need to figure out how you're going to get people to get on the webinar, first. If you don't have a list, if you can't find someone who has a list or an audience, then you can do Facebook ads, or some other ads, to drive traffic to a webinar registration. That's the first step," he continued.
Then the next step, according to Howes, is to set up a clean webinar registration page with a call-to-action.
"I like to use GoToWebinar.com. They're the standard in the industry. It seems like everyone's been on a webinar, from GoToWebinar, so they understand how to use it," said Howes.
Business owners interested in learning more tips and tricks on how to use webinars to sell high value products and services can tune into the full interview here: MMMS/LewisHowes.