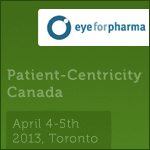 One of the main talking points will be how to utilize patient advocacy insight. Learning how to identify and engage prominent patient leaders is key in discovering what the pharma- patient relationship is missing
(PRWEB UK) 12 February 2013
As approval becomes more and more challenging, budgets are reduced and pressure to maintain growth rises, the industry are losing their core value, providing value for patients. Patient centricity is about ensuring all of your communication channels, marketing and partnerships are all made with the patient as a central focus and priority. And that's where we come in.
The Patient Centricity Canada Summit is taking place on the 4-5 April at the Radisson Admiral Harbourfront Hotel in Toronto. The event is bringing together the key leaders from across the patient pace to deliver key learning's and strategies on building more effective and engaging patient communications.
One of the main talking points will be how to utilize patient advocacy insight. Learning how to identify and engage prominent patient leaders is key in discovering what the pharma- patient relationship is missing. Durhane Wong-Reiger, CEO of CORD (Canadian Organisation for Rare Disease), Deb Maskens, Chair of Kidney Cancer Canada will be among the leading patient organization that will be debating the friction of patient access ad well as delivering feedback and advice on pharma's adherence and engagement programs.
Digital innovation can often be difficult to integrate into patient programs and initiatives, especially with wide-scale adoption being such a gamble. Rx&D' s Vice President of Public Affairs, Shannon MacDonald will be delving into digital innovation in the industry, and how pharma, HCPs and patient alike can improve their outcomes and integration with other key stakeholders in the patient journey.
Abbvie, Sanofi, Roche, Takeda and Shire VP's and CEO's are all going to be sharing their insight and delivering case studies at this unique even, with our eagerly anticipates CEO panel taking centre stage. We're aiming to learn how to close the gap between patients, HCP's, Caregivers and pharma. Policy, access, adherence and engagement are the largest barriers to true patient centricity, and these are the key focus points at tthis unique event.
The Patient Centricity Canada Summit 2013- Toronto taking pace on the 4-5th April in Toronto. Find out more and see the full agenda here: http://goo.gl/eNtcZ