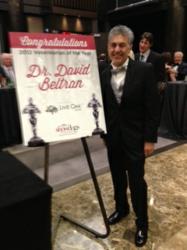 "Dr. Beltran is an excellent example of how many lives one person can touch, both in the industry and outside of it."
New York City, NY (PRWEB) February 12, 2013
The black tie event was hosted by Veterinary Practice News and was held at the Grand Hyatt Manhattan in New York City. Live Oak Bank was a proud sponsor.
Dr. David Beltran was born and raised in East Los Angeles and attended veterinary school at University of California, Davis. He is the owner and operator of Veterinary Healthcare Center, a full-service veterinary medical facility located in Monterey Park, CA.
Outside of office hours, Dr. Beltran dedicates his time and energy to help his community by volunteering with the Los Angeles Anti-Gang Coalition, the rotary club, and the local animal shelter. "Water for All" is another non-profit commitment; the organization works to provide access to potable water in remote communities throughout the world.
"It has been a pleasure working with Dr. Beltran over the past two years," commented Vince Dailey, Senior Loan Officer for Live Oak Bank. "Not only is he a dedicated veterinarian, he is also a genuinely good person. We are grateful to have him as a customer and feel that he is very deserving of this honor."
"We are pleased at the community-centric approach that led to the selection of Dr. Beltran for this recognition," said Lisa MacDonald, event chairperson and director of marketing for Veterinary Practice News. "Dr. Beltran is an excellent example of how many lives one person can touch, both in the industry and outside of it."
Live Oak Bank was founded to provide small business loans to professionals looking to start or expand their business. Aside from acquisitions and refinancing, Live Oak's lenders specialize in real estate loans and ground-up construction projects. The bank originally began lending to veterinarians, and has since expanded to dentists, independent pharmacists, funeral home owners, and investment advisors nationwide. Having such a keen industry focus and trade specialists on board enables the bank to offer an unparalleled level of service to the client. To learn more about Live Oak Bank, please visit http://www.liveoakbank.com.