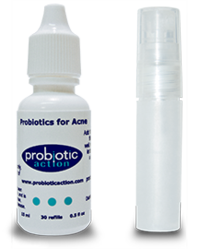 Miami, FL (PRWEB) February 26, 2013
The long winter has led many to suffer from record breaking cases of the flu and other ailments, reminding the public that germs are not only getting stronger, but maintaining a healthy lifestyle by going to the gym, still puts everyone at risk. Probiotic Action, creator of the best acne treatment explains that although avoiding harmful germs is impossible they have in some ways helped make the immune system able to take the daily beating from the elements. A recent article from Men's Fitness Magazine lists several types of germs found at most gyms from germs that cause foot fungus, to viruses like the flu; Probiotic Action shares which germs are most present in the gym this winter, and gives tips on how to safe guard against illness while working out.
Probiotic Action representative Fernando Perez explains that while germs are everywhere- not all of them are bad. Many surfaces in our daily lives and while working out are covered with illness causing bacteria, but there are also high levels of good bacteria in every food eaten, and surface touched- but those aren't fun to talk about!
Perez lists the 7 most common harmful bacteria and viruses found in gyms across the globe:
Human Papillomavirus
Klebsiella
E. Coli
Staphylococcus
Candida
Streptococcal Bacteria
Influenza
Although many of these germs listed would fail anyone from a spelling bee if they tried to spell them, all of them are common germs that most of people harbor everyday. Perez adds that while some complain that excess sweat from working out clogs pores and creates acne, anyone would rather have acne than a serious illness from the above listed germs. Covering up blemishes from a dirty workout is easy with the right acne cream, a trip to the hospital for a bad case of Influenza is not so simple.
"The Flu, Strep throat, and other bacterial and yeast infections are most commonly the results of some of the germs listed above. Staying hydrated during a workout, avoiding touching skin to gym equipment, and always showering afterwards helps most gym goers," says Perez.
Maintaining a healthy lifestyle by going to the gym may not be the only way to stay healthy. Correct diet, exercise, and preventative health measures should be a part of a daily routine to avoid infection.
Probiotic Action is an advanced acne treatment that uses a topical probiotic containing the "good bacteria" that is naturally found on healthy human skin. By using probiotics, Probiotic Action is an effective treatment that restores the normal bacteria content on skin. Probiotic Action will successfully clear skin while protecting skin against bad bacteria, free radicals, and pollutants.
####