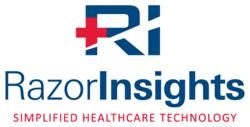 We believe RazorInsights is well positioned for additional growth and will be disrupting this underserved market
Kennesaw, Georgia (PRWEB) February 12, 2013
RazorInsights, a leading provider of fully-integrated, SaaS-based health IT solutions for Rural, Critical Access and Community hospitals, announced today that it has completed a two-stage $11 Million Series A round of capital financing through private equity firm Bluff Point Associates.
"We're thrilled that Bluff Point Associates believes in our growth potential as much as we do," said Reed Liggin, co-founder and CEO of RazorInsights. "We see tremendous interest and excitement among hospitals and healthcare systems for our single-database, enterprise HIS solution in the cloud. The availability of this funding will allow us to capitalize on the market opportunity and keep us on track with our product development strategy. Additionally, we will fill vital sales and support roles that will bolster our growing share of the market."
Since launching the company in December 2010, RazorInsights has become a notable player in the Rural and Critical Access hospital segment. RazorInsights' integrated clinical (EHR) and financial (HIS) offering, ONE-Health System Edition, has been immediately embraced by hospitals looking for an affordable, cloud-based solution that is easy to use and resides on a single database. Brad Bescoe, Implementation Manager at Straith Hospital in Southfield, Michigan recently stated, "We determined RazorInsights as the best vendor to suit us on this journey based on its previous success in achieving meaningful use, affordable use of cloud technology, and recommendations from its current customers."
As part of the transaction, Bluff Point Associates Managing Director Kevin Fahey will join the RazorInsights Board of Directors. "Having spent several years in the Rural Health and Critical Access markets, it is very apparent that RazorInsights has created a truly unique product offering that this market has never seen before. Adding to that, their relentless pursuit of client satisfaction, as evidenced by their KLAS ratings, has equipped them with an expansive list of referable hospital clients. We believe RazorInsights is well positioned for additional growth and will be disrupting this underserved market," he said.
Cecelia Bost, COO at Alliance HealthCare System in Holly Springs, Mississippi, added she has been very pleased with the ease of the system and the level of service provided by RazorInsights. "After working with several different EHR systems during my HIM training course, I found RazorInsights to have the most user-friendly product. Our entire staff has readily embraced RazorInsights' ONE-Electronic Health Record and has been impressed with both the onsite training and 24/7/365 technical support they include," she said.
About RazorInsights: Based in Kennesaw, Georgia, RazorInsights is a dynamic healthcare information technology company. In keeping with the principle of Occam's Razor, they have created a simplified HIS solution for Rural, Critical Access and Community hospitals. Introducing ONE (ONC-ATCB 2011/2012) — a single-database, cloud solution offering a simple user experience with cutting-edge clinical tools and industry-standardized data. Hospitals can expect to improve their performance and bottom line with ONE from RazorInsights. To register for a live product demo or for more information, visit http://www.razorinsights.com or call 770-308-4111.
About Bluff Point Associates: Bluff Point Associates is a private equity firm based in Westport, Connecticut. Bluff Point actively invests in information services companies supporting the banking, trust, securities, retirement and wealth management sectors of the financial services industry, as well as the healthcare information services sector. Bluff Point's team collectively has decades of experience in recognizing a company's growth potential and working with its management to reach that potential. For more information regarding Bluff Point, visit http://www.bluffpt.com.