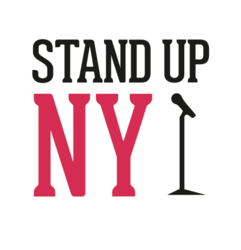 "Van West Media was able to translate my vision into a beautiful design & user-friendly interface."
— Dani Zoldan; Principal
New York, NY (PRWEB) February 25, 2013
Since 1986, Stand Up NY has helped launch the careers of a long list of celebrity comedians and livened-up NY residents and visitors through laughter. Offering its recently-renovated interior on the Upper West Side, it still stands as one of the most famous stand-up comedy club pioneers in Manhattan. In a new online partnership with Van West Media, a Manhattan digital interactive and design agency, the club's online experience just got a noticeable overhaul as well — receiving just as much attention as the new inside diggs.
The website upgrade addresses a digital/content marketing challenge now common among many longstanding businesses — how to give an iconic old-school (club) brand an updated online presence, and still retain all of the original brand attributes.
These challenges follow a process on which digital agencies like Van West Media become subject matter experts. With their 2011 renovation, Stand Up NY shed its bare structure and less initimate feel, adopting a more intimate environment with red and dark-wood accents. "This was the catalyst," says Shad Mohammed, founder of Van West Media and project director. "Much of a comedy club's brand experience is wrapped around audience interaction - we wanted to pull the design out of the 80's, but still keep the authenticity and organic feel of the comedy brand. We refined the online experience to begin with a streamlined, approachably clean, photo-inspired landscape that quickly transforms into an intimate experience - one that parallels the feel you get when you're sharing the space with performers inside the club."
From a design theory perspective, the interactive digital marketing agency leveraged the contemporary red and black color palette that mimics the club's interior — also colors which represent the "bold, engaging energy performers project to connect with their audience," according to Mohammed. The UX is also much more interactive and user-focused.
The agency's strategy integrates compelling best-practice trends in social and content marketing, based on researched user-experience at different points of audience engagement. Improvements are gaining attention as the site has seen significantly increased traffic and received an immediate positive response from visitors and Stand Up NY alike.
According to Dani Zoldan, principal of the acclaimed comedy club. "Stand Up NY as a comedy club and brand has transitioned into the next stage of our evolution by embracing new media by giving comedy fans access and easy ways to share funny and original content. Van West Media was able to translate my vision into a beautiful design and user-friendly interface."
Visitors can engage with interactive site upgrades like:
● Faster, uber user-friendly navigation
● A casual, personality-based performer bio section that educates audience about performers
● An easy, user-friendly schedule/calendar so fans can easily browse through upcoming performers with direct links to their bios and acts
● A New Talent section where upcoming performers can get noticed
● A link to Laughstub so visitors can easily browse acts and purchase tickets
● A new Open Mic page featuring an up-to-the-minute signup form where performers can reserve their show spot and also see who they'll be performing with
Through the Stand Up NY/Van West Media partnership, Stand Up NY fans can now get an updated, authentic experience both inside and out that's fresh, up close, and personal, but still old-school. To find out more about Van West Media visit their site or contact them for a consultation at (718) 288-2463 or email info(at)vanwestmedia(dot)com.
About Van West Media: Van West Media (http://www.VanWestMedia.com) is an award-winning, Manhattan Chamber of Commerce & BBB accredited interactive/digital/online marketing agency based in New York City (12 Desbrosses Street Manhattan, NY 10013). We are a multi-service design, brand and online consultancy driven ultimately by results and excelling at developing strategic, engaging websites, apps, and competitive inbound marketing campaigns for small to midsize businesses globally. VWM offers targeted, hard-hitting SEO, SEM strategy and implementation, PPC campaigns, content strategy, design and development, inbound marketing, affiliate marketing, ecommerce, mobile, social media and reputation management services. Our extensive marketing expertise and competitive tools increase both traffic and revenue for our clients. Contact 1 (855) VAN-WEST (855) 826-9378 or Shad Mohammad (718) 288-2463 or email info(at)vanwestmedia(dot)com.