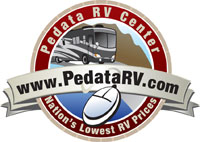 Most RVers will find that their RV loan could be considered a second home mortgage…
Phoenix, AZ (PRWEB) February 28, 2013
Pedata RV Center releases the Tax Season Tip Sheet for RVers. With the state of the economy today, everyone is looking for a way to cut back expenses or bring in extra income. With the arrival of the 2012 tax season (January through April 2013), the same sentiment is brought to the table of every tax preparer, accountant or individual looking for applicable deductions to decrease taxes owed/refunds received. Careful evaluation could result in additional deductions on 2012 taxes for RV owners.
The Tax Season Tip Sheet for RVers released by Pedata RV Center in February 2013, is designed to aid RV owners (fifth wheels, Class As, Class Cs, etc.) in identifying potential deductions that could lead to substantial financial benefits.
Key points discussed within the tip sheet scheduled for online release in February 2013 include:

Potential Classification of RVs as a "Second Home"
Qualifying for the Deduction
IRS Codes and Mandates Related to the Deduction
Gerard Pedata of Pedata RV Center said, "Most RVers will find that their RV loan could be considered a second home mortgage…for the purposes of tax filing. When that's the case, the interest paid towards the RV financing is tax deductible. Of course, there are stipulations and qualifications that should be discussed with a tax professional prior to filing."
With the April 15th, 2013 deadline looming for taxpayers who still need to file 2012 taxes, RV owners should move now to determine their recreational vehicle's ability to qualify as a second home. Accessing basic details regarding qualification for the deduction on the upcoming tip sheet is a good place to start.
Pedata RV Center sells used RVs, travel trailers, fifth wheels, campers, and motor homes. Their full inventory is accessible online, and due to their low overhead costs they are able to offer competitive pricing in their industry. Easy access to industry and recreational vehicle information allows consumers to have access to the specific knowledge they need to ensure their purchase results in long-term satisfaction.