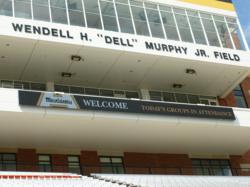 "Since the installation, we have seen a definite increase in fan engagement with overwhelmingly positive feedback to the boards, so it is safe to say that their addition proved to be another successful upgrade to one of college football's premier venues."
Boone, North Carolina (PRWEB) February 13, 2013
Panasonic Eco Solutions North America announces that Appalachian State University commissioned the company to upgrade the University's Kidd Brewer Stadium with new LED boards as a complement to the existing system. Nicknamed "The Rock", the stadium has undergone major changes over the course of the past six years. The LED boards were installed in time for Kidd Brewer Stadium's 50th anniversary.
"Panasonic's installation of the LED ribbon boards was a big part of our efforts to continue to enhance the fan experience at Kidd Brewer Stadium," said Charlie Cobb, Director of Athletics. He added, "Since the installation, we have seen a definite increase in fan engagement with overwhelmingly positive feedback to the boards, so it is safe to say that their addition proved to be another successful upgrade to one of college football's premier venues."
The LED ribbon boards are located on opposite sides of the facility in the grandstands, with two positioned on the west side of the stadium in front of the Appalachian Athletics Center and two placed on the east side upper deck. Seamlessly integrated with the existing control system and LED board, the displays each measure 50 feet wide by 3 feet high and enhance the fan experience with game information, real-time statistics, and interactive graphics.
To guarantee clear visibility of the west LED ribbon boards from the control room, Panasonic also installed a confidence camera on the east side of the stadium to ensure operators could effectively manage the displays.
"We responded very quickly to the University's needs to deliver a solution in less then 60 days, which included the integration of our solution with legacy system hardware and software for seamless operation," said Richard Ballard, VP of Sales & Marketing, Panasonic Eco Solutions North America. "The fascia displays add excitement to the facility and really engage the fans."
About Panasonic Eco Solutions North America
Panasonic Eco Solutions North America is a division of Panasonic Corporation of North America, the principal North American subsidiary of Panasonic Corporation (NYSE:PC). The company develops and provides customized and integrated technology-based system solutions for enterprise customers in a variety of industries such as sports and entertainment, as well as education. Additionally, the company supplies renewable energy and energy-efficiency solutions to corporate and public sector organizations. For more information on the company and its enterprise solutions, visit http://www.panasonic.com/business/enterprise/enterprise-solutions-company.asp
For more information, please call (877) 438 7881 or email enterprise(at)us.panasonic(dot)com.
###