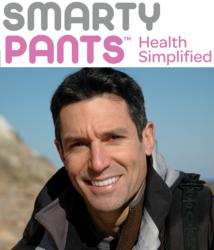 I love that SmartyPants is all about making it easier for people to follow the expert advice they get about nutrients.
Los Angeles, CA (PRWEB) February 13, 2013
David L. Katz, M.D., M.P.H., F.A.C.P.M., F.A.C.P., has joined the SmartyPants Vitamins team as Senior Medical Advisor. One of the world's most respected experts in preventive medicine, Dr. Katz is the founding director of Yale University's Prevention Research Center. He is a two-time diplomat of the American Board of Internal Medicine, a board-certified specialist in Preventive Medicine/Public Health, and a clinical instructor in medicine at the Yale School of Medicine. He founded and directs the Integrative Medicine Center at Griffin Hospital in Derby, CT.
The announcement was made by Courtney Nichols Gould, Co-CEO and Co-Founder of SmartyPants, maker of Smarty Pants All-in-One Gummy Vitamins for Kids and Grownups as well as the new All-In-One for Weight Management.
"We are delighted that Dr. David Katz has agreed to help steer our medical course," said Ms. Nichols Gould. "When it comes to preventing illness, including chronic and infectious diseases, there is no one who is more qualified to help guide our work in improving the health and wellness of America's children and adults than Dr. Katz. We are certain that his expertise and support as our Senior Medical Advisor will be a key asset in ensuring we are always doing the best we can to provide optimal, simplified and practical health solutions for as many people as possible." A prolific writer, Dr. Katz has published twelve books, more than 150 scientific articles and numerous magazines, blog and website stories, as well as more than 1,000 newspaper articles. He is President-Elect of the American College of Lifestyle Medicine, founder and President of the non-profit Turn the Tide Foundation, Editor-in-Chief of the Journal of Childhood Obesity, and writer for the Huffington Post. He has served as a consultant to the World Health Organization on scientific evidence standards for complementary/alternative and traditional medicine.
Dr. Katz is also the principal inventor of the Overall Nutritional Quality Index that is utilized in the NuVal® Nutrition Guidance Program (http://www.nuval.com), a scoring system designed to quantify the nutritional value of grocery store items for busy shoppers. The NuVal system is currently offered in over 1,600 supermarkets throughout the United States reaching millions of consumers.
Dr. Katz's mission is to help people get to health, past the challenges of modern living- and add the years to life and life to years we all want, and deserve. "We have the knowledge in hand to prevent fully 80% of all chronic disease, and enjoy far greater vitality. Getting there from here is now all about the 'how,' and I'm a supporter of all efforts to simplify that journey. I love that SmartyPants is all about making it easier for people to follow the expert advice they get about nutrients." "We look forward to a long and fruitful involvement in SmartyPants Vitamins by Dr. Katz," said Nichols Gould.
Nichols Gould pointed out that SmartyPants' mission is to help 1,000,000 kids get the nutrients they need in five years. The United Nations and the World Health Organization agree that with micronutrient supplements and clean water, 90 percent of childhood mortality could be eliminated.
"For every bottle of SmartyPants products that is sold," said Nichols Gould, "we will make a one-for-one matching nutrient grant so kids and expecting mothers both in the U.S. and abroad get the start in life everyone deserves."
Endorsed by leading healthcare providers across the country, SmartyPants Gummy Vitamins for Grown Ups are available online at http://www.smartypantsvitamins.com.The website contains a wealth of information about SmartyPants and nutrition.