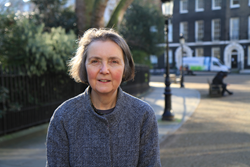 At NCH we pride ourselves on giving our students access to the very best teaching and Rhiannon will add a great deal to our outstanding Law faculty
(PRWEB UK) 14 February 2013
New College of the Humanities (NCH) has announced that Rhiannon Wynn-Jones has joined its Law faculty as Tutor. She will be teaching Contract Law at the College as part of the Law LLB course.
Law is also available as a contextual course, undertaken alongside other degree subjects as part of the College's broader liberal arts curriculum.
Rhiannon trained as a solicitor at Clifford Chance and then worked as a senior lawyer there for a number of years, specialising in commercial property work. She then moved into teaching and was Director of the Legal Practice Course, and then the Graduate Diploma in Law, at the University of the West of England in Bristol. Rhiannon is a former lawyer chairman of the Leasehold Valuation Tribunal, and a former chairman of the Association of Women Solicitors.
Rhiannon will be teaching alongside the current Law faculty which includes Convener and Senior Lecturer Dr Tola Amodu, Professor Roger Halson, Professor G R Sullivan and Visiting Professors Barbara McDonald, Geoffrey Robertson QC and Adrian Zuckerman.
Professor A C Grayling, Master of NCH, said: "I am pleased that Rhiannon will be joining the academic roster at New College of the Humanities. As an esteemed solicitor and tutor, Rhiannon will be a valuable addition to the College's teaching staff.
"At NCH we pride ourselves on giving our students access to the very best teaching and Rhiannon will add a great deal to our outstanding Law faculty."
For further information, please contact:
Clare Keeling or Thea Warren at Four Colman Getty
T: 0870 626 9000
nch (at) fourcolmangetty (dot) com
Notes to Editors
New College of the Humanities (NCH) offers a new model of higher education for the humanities in the UK. NCH students enjoy one of the best staff-to-student ratios in UK higher education and benefit from a high number of quality contact hours as well as engaging and challenging one-to-one tutorials.
Our Professors are international experts in their fields and our full time academic staff members have been selected for their proven ability for teaching in addition to their research interests.
NCH welcomed its first intake of students in September 2012 and prepares students for undergraduate degrees in: Economics BSc; English BA; History BA; Law LLB and Philosophy BA. The College has recently announced that the Politics & International Relations BSc will also be offered from 2013.
In addition to their 12-module degree, all NCH students study a further seven modules. This is comprised of four modules from another subject as a contextual course and three core modules in Applied Ethics, Logic & Critical Thinking, and Science Literacy. All students also follow the College's Professional Programme.
The College is centrally located in Bloomsbury, London's university district and students, as associate members of the University of London, have access to many of the resources of the University of London: the exceptional library in Senate House, the University of London Union, sports facilities, and many other opportunities to enrich themselves through extra-curricular activity.
The College's rolling applications process is independent of UCAS and applications can be made in addition to the five UCAS choices. The next application deadline is 11 March 2013. Visit http://www.NCHum.org for all enquiries and applications.
https://www.facebook.com/NewCollegeH
http://twitter.com/NewCollegeH