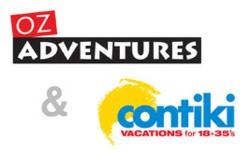 6.9 per cent rise in the number of international travellers embarking on a trip to Australia last month.
(PRWEB UK) 20 February 2013
Australian gap year travel experts, OzAdventures will continue to offer travellers a wealth of touring options Down Under in 2013, by cementing their partnership with Contiki 18-35 – a specialist travel authority catering to the needs of young tourists.
Heading into the spring with university students perhaps embarking on that final straight before what is hoped to be an achievement-laden end to their education, OzAdventures and Contiki 18-35 offer an exciting snapshot into future months with a range of exciting packages available to book and look forward to.
With the Australian Bureau of Statistics (ABS) revealing a 6.9 per cent rise in the number of international travellers embarking on a trip to Australia last month, there is undoubtedly continued evidence that Oz remains a world class destination when it comes to holidaying and embracing new experiences.
One of the fulfilling packages on offer for those wishing to take a gap year in Australia is the self confessed 11-day Outback Adventure which takes in all the beauty of Australia's Red Centre and Alice Springs, not forgetting the multicultural, cosmopolitan hub that is Darwin on day 11 of the adventure.
With this package available at £1,065 per person, OzAdventures offers adventure tours in Australia at competitive prices with the range of activities proving far more expensive when booked in isolation.
Contiki 18-35 Tours were founded way back in 1962 by Kiwi native John Anderson who first formulated ideals surrounding group travel following his own arrival in London ahead of a European adventure with little money and little company.
Today, the company venture to over 40 countries worldwide across all five continents and a key principle underpinning company operations is the focus on unified fun and enjoyment but also recognising that personal time is important too. This ethos is reiterated on the company's official website, where their mantra is: "We do the hard work for you, so you can get on with having a good time.
"All our tours are flexible and give you free time every day. So you'll have plenty of time to do your own thing."
OzAdventures partnership with Contiki 18-35 means that no matter where you are travelling around Australia, there are different tours for each specific region such as a Beaches and Reefs adventure taking in the beauty of the Cairns to Sydney coast, an Island and Rainforest tour comprising the fascinating Whitsunday Islands and the flagship 25-day Big Walkabout that combines the Northern territory, Queensland as well as New South Wales.