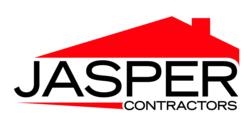 "We offer very impressive compensations, salary plus bonuses. The pay structure is lucrative for performers," Wedding says. "Jasper Contractors is seeking above average sales reps."
Indianapolis, IN (PRWEB) February 14, 2013
National roofing contractor, Jasper Contractors, Inc., will be hosting a hiring event this coming week. The Baton Rouge, La. Based contractor has 13 locations nationwide with a local office in Camby, Ind. The company performs total roof replacements on both residential and commercial properties due to storm damage.
"Going into spring, the number of installs and squares will increase. This is a recession proof industry with endless career opportunities," says Brian Wedding, owner and CEO. "I am looking for top performers to join the Jasper team."
Jasper Contractors offers Outside Sales Representatives a competitive compensation package which includes a base salary of $30,000 per year, a company phone, a company vehicle, a fuel card and 100% paid health benefits for employees and their families after 90 days. There are also opportunities to earn bonuses per project and based on revenue.
According to Wedding, candidates can potentially earn over $200,000 per year as an Outside Sales Representative. "We offer very impressive compensations, salary plus bonuses. The pay structure is lucrative for performers," he says. "Jasper Contractors is seeking above average sales reps."
This career event will be held at the Cambria Suites Indianapolis Airport, 6014 Gateway Dr., Plainfield, Ind. on Monday, Feb. 20, 2013 from 7 p.m. to 10 p.m. RSVP "yes attending" to CareerEventIndy(at)jasperinc(dot)org.
For more information about this Jasper Contractors job event, visit Jasper Job Fairs or call 1-800-610-9403 and ask to speak with Rachel Holcomb. Candidates must RSVP for this event. Full details are provided on the Job Fairs page of the Jasper Roof website. For a full list of job openings, visit http://www.JobsAtJasper.com.
# # #
About Jasper Contractors, Inc.
With locations throughout the United States, including Atlanta, Baton Rouge, Chicago, Cincinnati Denver, Indianapolis, Phoenix, Salt Lake City and St. Louis, Jasper Contractors is one of the fastest-growing roofing contractors in the country. Jasper Contractors was listed on the Inc. 500|5000 list in 2012 and received the Owens Corning's Top Performer Purchase Volume Award. Jasper Contractors is an Owens Corning Roofing Platinum Preferred Contractor. . For information about Jasper Contractors, Inc., call 404-772-2468 or visit http://www.JasperRoof.com.