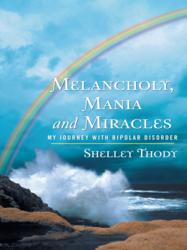 With appropriate choices regarding treatment, lives can be completely turned around in a positive way.
Edmonton, Alberta (PRWEB) February 16, 2013
Mental illness is often misunderstood and stigmatized in modern society. Now, one author seeks to remove the veil of ignorance about mental illness and strives to emphasize the importance of positive mental health.
Shelley Thody's Melancholy, Mania and Miracles chronicles the powerful journey of her struggle to deal with bipolar disorder during her adolescence and early adulthood. Throughout her life, Thody experienced the extreme highs and dramatic lows associated with bipolar disorder. Through her book, she offers readers the ability to fully understand the effects of the disorder through heart-felt and personal storytelling.
"Living with mental illness is characterized by a torrent of emotions, which when left untreated can lead to serious consequences for both the individual and their families," said Thody, "The importance of pursuing treatment for those who are suffering from mental illness is crucial to leading a healthy, happy life in the future."
Despite the trials and hardships she experienced in her life, Thody emerges as a beacon of hope for those who are living with a mental illness as well as their families. She also offers individual coping mechanisms for others to use to overcome the adversities of mental illness in positive ways.
Through the development of her personal relationship with God as well as the acceptance of medication into her life, Thody was able to find the key to living a happy, balanced life.
"Miracles are happening all around us, even to people with mental illnesses," said Thody, "With appropriate choices regarding treatment, lives can be completely turned around in a positive way."
Melancholy, Mania and Miracles
By Shelley Thody Hardcover, $22.00 Paperback, $10.45 Kindle, $3.95
ISBN: 978-1449772734
Available at http://www.amazon.com.
About the author
Shelley Thody has lived with different mental disorders throughout her entire life but learned to overcome her obstacles through the cultivation of a relationship with God and treatment. She has been an elementary teacher for 17 years and has been blessed to work with children. She lives in Lac La Biche, Alberta.