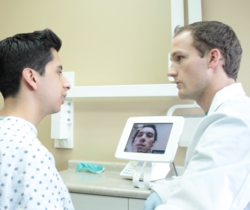 "This has been a phenomenal decision for us because it really answered all our questions."
Salt Lake City, UT (PRWEB) February 20, 2013
When Linguistica International reached out to ArmorActive a few months ago they had one main goal in mind: to provide the ultimate translation and interpretation services for external clients. The objective was to find an iPad kiosk table mount to help assist with video conferencing. After collaborating with ArmorActive, the solution became something more effective than initially expected.
Linguistica International interprets in over 170 languages and dialects and helps facilitate conversations in healthcare, education, finance, and business legal. Their service was originally designed to provide translation on an on-site basis, but with advancements in technology they are now expanding their services telephonically and through video conferencing.
In search to provide the best virtual audio and visual experience for their clients, Linguistica turned to the tablet world. They bought an iPad and partnered with a software company that provided an encrypted video conferencing application. Once they had the device and software, they began looking for a hardware solution to provide a secure presentation to their customers that could be portable or securely mounted to a counter.
After researching ArmorActive's different iPad kiosk options, they made the decision to move forward with the Evolve iPad enclosure and Gravity Flip Pro iPad kiosk table stand, which combines a professional presentation with optimal versatility. "When we found the right iPad kiosk, the stars really started to align," stated Wilson Ostojic, Linguistica Account Manager.
The Evolve iPad enclosure is one of the more popular iPad enclosures, as it can be custom branded and changed to many different uses. Linguistica features their logo on the faceplate, and chose a white enclosure/stand combination to specifically compliment the healthcare settings. With the custom solution team at ArmorActive, any iPad enclosure, stand, or mount, can be custom made to fit the specific needs of any company, in any industry.
By using this iPad kiosk solution, Linguistica International is accomplishing effective translation communication between two different languages. They have created a solution for video-conferencing translation that is cost effective for both the company and their clients, simple to use and install, and completely custom to their client and company's needs. In talking with Ostojic, he stated, "This has been a phenomenal decision for us because it really answered all of the question we had."
Linguistica International is a great example of how companies are passionate about forward thinking and finding the latest technology and products on the market. By using the ArmorActive iPad kiosks along with their custom encrypted video conferencing application, Linguistica International was able to achieve their main goal of efficiently satisfying their clients needs while also saving time and money for the company.
About Linguistica International
Linguistica International is a worldwide Interpreting and Translation company offering services face to face, over the phone, and via video conferencing in over 170 dialects and languages. More information on their services is available at http://www.linguisticainternational.com
About ArmorActive
ArmorActive is a global tablet security solutions company. Unique in the industry, ArmorActive provides a team of Account Managers to help customers make the best decisions at all stages of their tablet-based projects, from procurement to implementation. A wide variety of ArmorActive products are available at http://www.ipadenclosures.com