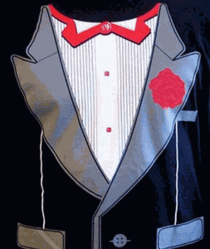 We bought some for our Wedding Party and they were a hit!
Waltham, MA (PRWEB) February 19, 2013
Tuxedo T-shirts have become a trademark of the online funny gift retail company Wacky Planet. Offering a cool and casual approach to formal attire, these fun shirts are available in a number of sizes and styles. Some of the styles include the Classic Black and White Tuxedo, the St. Patty's Day Green Tuxedo and the pop or color Red Carnation Tuxedo. The little one in the family can even enjoy this great design with a Baby Tuxedo Romper. The t-shirts are intended to elicit a laugh or two from those who witness them while providing a relaxed fit for those who wear them. Screen printed on Delta Apparel preshrunk 100% cotton pro-weight fabric, these t-shirts are durable, soft, comfortable and machine washable for easy-care.
The idea of the tuxedo shirt was a true lightning bolt of ingenuity. Rented tuxedos are intended for one-time use. Companies like The Planet Shops and Wacky Planet are striving to give their customers more bang for their buck when shopping for apparel. This company even offers big discounts for multiple t-shirts. The starting price at $9.95 is a steal for a t-shirt of this quality. More deals include 2 for $18.95, 6 for $49.95 and 12 for $95.40. Customers of the Planet Shops have purchased these laid-back but refined t-shirts for wedding parties, company events, school functions or simply to add a bit of humor to their wardrobe.
About WackyPlanet.com.
The Planet Shops @ WackyPlanet.com has become one of the most popular internet gift retailers of Funny, Fun and Trendy gifts since the company's inception in 2001. Our motto is "The Coolest Gifts On The Planet". Wacky Planet is proud to provide a Customer Service team available to provide live support from 10am-4pm Monday through Friday, on the phone or via email. The customer service representatives are available to answer questions about t-shirt sizing, quality, shipment and pricing. Shipment is fast and orders are usually processed within one business day so customers can start enjoying their newly purchased wacky products as soon as possible.