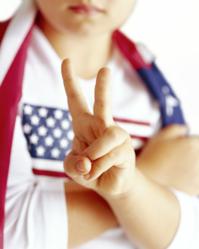 With George Washington's birthday approaching, Orlando visitors can celebrate this day in a memorable way at patriotic attractions within Walt Disney World. Orlandoescape.com--the #1 Internet site for Orlando travel
Orlando, Florida (PRWEB) February 16, 2013
With George Washington's birthday approaching, Orlando visitors can celebrate this day in a memorable way at patriotic attractions within Walt Disney World. Orlandoescape.com - the #1 Internet site for Orlando travel - lists a number of Disney area hotels on their list of Top 20 Orlando Hotel Deals, to give travelers plenty of choices as they make their Presidents Day plans.
"With a Disney Park Hopper Pass, travelers can visit any of the four Disney theme parks over the long weekend," said Sunil Govind, president of Orlandoescape.com. "The Top 20 Orlando Hotel Deals include a number of Lake Buena Vista and Disney Good Neighbor hotels." These properties include the Hampton Inn and Suites South LBV, Springhill Suites Lake Buena Vista, Wyndham Hotel Lake Buena Vista, Buena Vista Suites, Best Western Lake Buena Vista Resort, Clarion Inn Lake Buena Vista, and the Swan and Dolphin Resort.
For guests of Magic Kingdom, the most presidential exhibit in all of Disney World is the Hall of Presidents. This animatronic extravaganza - an original attraction that debuted when Disney World opened in 1971 - features all of the American presidents, and a specially recorded message from sitting President Barack Obama. In fact, every sitting president since Richard Nixon has recorded a message for the Hall of Presidents during their term in office, and there are additional recorded segments representing two of the nation's most beloved leaders--George Washington and Abraham Lincoln.
Like the Hall of Presidents, the American Adventure pavilion at Epcot features animatronic technology and plenty of U.S. history. The theatrical performances are scheduled throughout the day, and fife and drum music is performed live in front of the pavilion as well. Walt Disney's love of American history and admiration for leaders like Washington and Lincoln is evident at these popular theme park attractions.
"Disney World is unique in that visitors can enjoy entertainment that is educational as well," said Govind. "It was always a part of Walt Disney's vision for this theme park to bring that history to life, and it's something that visitors of all ages can enjoy."
About Orlandoescape.com: Launched in 2000, Orlandoescape.com is the #1 Internet site for Orlando, Florida, featuring the top Orlando vacation package deals, travel articles, and links to related sites.