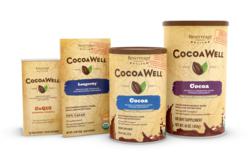 Gainesville, FL (PRWEB) February 22, 2013
Whole Foods Market® is unveiling the newest products from CocoaWell® by Reserveage™ Organics as a delicious way to enjoy cocoa's benefits. These versatile cocoa supplements, unlike other products in the health food industry, give consumers more ways to experience the benefits of cocoa. The new CocoaWell supplement bars and mixable supplement powders launch nationwide this month, exclusively at Whole Foods Market. Savvy chocolate lovers will enjoy the USDA Organic- and Fair Trade-certified benefits—all made with 70 percent cacao.
Consumers can find the newest additions to CocoaWell's supplements in Whole Foods Market's Whole Body department. These daily cocoa supplements provide flavanols from nature to support heart health, energy and whole body wellness.*
Each of the four new 1.5 oz. (43g) CocoaWell supplement bars is flavored with chocolate and comes with distinct health-supporting nutrients: The Cocoa Science™ supplement bar is enhanced with Pure Plant Flavanol Complex (PPF Complex®) to support whole body wellness, Longevity* features Resveratrol, Energy* is infused with adaptogenic herbs, and Omega-3 contains life'sDHA and chia seed oil. Each bar is convenient for supplementing anytime you want to supplement your diet.*
CocoaWell mixable powders come in naturally sweetened or unsweetened versions and two sizes. As a delicious nutritional supplement that provides polyphenol and flavanol support, each powder can be easily mixed with any hot or cold beverage.*
CocoaWell by Reserveage Organics takes its inspiration for supplements from one of the world's healthiest cultures—the Kuna indigenous people of coastal Panama.
A Harvard research team studied the Kuna's cocoa consumption for more than 20 years and found they were able to maintain blood pressure at normal levels and enjoy good cardiovascular health as they aged.
The researchers documented the Kuna's sacred practice of drinking 30 ounces (five cups) of cocoa daily, until witch's broom disease killed many of their cacao trees. CocoaWell has formed a unique relationship with the Kuna aimed at helping them restore cacao production.
Last year, the Kuna ruling chiefs and CocoaWell signed a landmark sustainable business agreement that marked the first time in the Kuna's history they have granted a company permission to promote their healthy culture through their story and cultural likeness.
Reserveage Organics is the only company the Kuna have entrusted with promoting their sacred cocoa tradition.
The Kuna have agreed to assist CocoaWell in promoting cocoa's benefits for the diet and share their knowledge of health and longevity with the world. CocoaWell is working with the Kuna to help them replenish their forests and reinvigorate cacao farming through various avenues.
"Supplementing with CocoaWell is a 'win-win' for the consumer and for the Kuna," says Reserveage CEO and Founder Naomi Whittel. "Whole Foods Market customers will enjoy our delicious supplements, and the Kuna are excited their cocoa culture has inspired a product that will allow them to share their knowledge about cocoa and their culture with consumers."
"We are delighted to welcome the newest CocoaWell supplements to our Whole Body department," said Jeremiah McElwee, executive Whole Body coordinator at Whole Foods Market. "After visiting the Kuna nation in Panama, I know that these products are unique because they will help to preserve the culture of the indigenous people."
About Reserveage™ Organics
Inspired by the wisdom of nature and the healthiest cultures around the world, Reserveage Organics aims to provide high-quality, science-driven products that deliver life-changing benefits. We know nature is a powerful and abundant source, so we travel the world in search of the finest natural ingredients. The philosophy that inspires us to enhance the relationship between science and nature drives the formulations we create using clinically researched ingredients with demonstrated results. We strive to provide the world's most advanced and innovative nutritional supplements that deliver the promise of supporting optimal wellness.* We are devoted to providing naturally derived ingredients in authentic formulas.
For more information about the complete line of Resveratrol-based nutritional supplements, call 800.553.1896 or visit http://www.reserveage.com.
*These statements have not been evaluated by the Food and Drug Administration. This product is not intended to diagnose, treat, cure or prevent any disease.