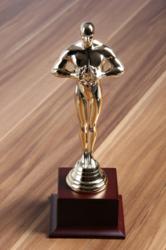 In the Best Picture category, statistics favor Argo, while psychics pick Lincoln. In the other categories, number crunching and intuition converge.
Langhorne, PA (PRWEB) February 18, 2013
Statistics did a phenomenal job of predicting last year's election results. Perhaps not surprisingly, a similar amalgam of algorithms and historical data is now being applied Oscar prognostications. A week before the Oscars ceremony, which will take place on Sunday, February 24th, the number crunchers at The Huffington Post are predicting with 99% certainty that Argo will add the Best Picture Oscar to its award pile.
Over at Hollywood Psychics, the popular psychic services provider, spiritual experts and consulters of cards, astrology and intuition beg to differ.
In a survey of 50 Hollywood Psychics professionals, more predicted an Oscar win for Lincoln than for any other film, with most of the remaining forecasts split almost evenly between Argo and Les Misérables.
In other major categories the planets and stats seem almost perfectly aligned. Daniel Day-Lewis (Lincoln) gets a 99% certainty nod to win Best Actor from the Huffington Post and a clear majority from the psychics, as well. For best director, the HuffPo is 88.4% certain that Steven Spielberg will add a 3rd Best Director statuette to his stash. The psychics couldn't agree more.
In the Best Actress category, Jennifer Lawrence (Silver Linings Playbook) gets a 73% will-win verdict from the Huffington Post, and a similar psychic vote of confidence.
It's hard to argue with so much accord, but one psychic bucks the trend. Spiritual Advisor and Tarot Card reader Vandine picks Beasts of the Southern Wild as the wild card that might "possibly sweep" the awards. "The cards were inconclusive," she says, "Leaning slightly towards Beasts in several categories. This is going to be tight."
Which is just the way we like it!
About Hollywood Psychics:
Hollywood Psychics is an established provider of psychic readings by phone and online chat, appealing to a young professional demographic. Hollywood Psychics experts specialize in astrology, horoscopes, numerology, tarot cards, clairvoyant readings, and many other psychic disciplines. Hollywood Psychics believes in its community of authentic psychics and stands behind the authentic psychic readings they deliver to clients. Visit them online at http://www.hollywoodpsychics.com.
For more information, contact:
Maryanne Fiedler, Marketing Director
maryanne(at)hollywoodpsychics(dot)com
215-953-8568