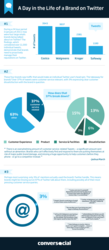 Our research proves that there is an immense amount of conversation surrounding retailers on Twitter, and much of it consists of consumers voicing concern or requesting assistance with a variety of issues.
New York, NY (PRWEB) February 18, 2013
Conversocial, the leader in social customer service, announced today the results of a new study analyzing Twitter conversations pertaining to four major US retailers: Costco, Kroger, Safeway, and Walgreens. Entitled "A Day in the Life of Brands on Twitter"— and conducted by NYU Assistant Professor of Communications Liel Leibovitz— the research analyzed 11,723 tweets mentioning the four brands during the 24-hour period of January 8th, 2013. The study revealed that during that time frame, 37% of brand-associated tweets were customer service-related, while only 3% of tweets were tweeted directly at the retailers using an "@mention."
"Our research proves that there is an immense amount of conversation surrounding retailers on Twitter, and much of it consists of consumers voicing concern or requesting assistance with a variety of issues," according to Liel Leibovitz, Assistant Professor of Communications at New York University, who conducted the study commissioned by Conversocial. "This might sound obvious, but our analysis provides a rarely-before-seen level of depth by looking at a day in the life of Twitter and analyzing a significant number of individual tweets."
The four brands examined in the study saw a total of 4,367 customer service-oriented tweets, a strong indicator of high demand for assistance via social channels. For example, roughly 23% of tweets surrounding Costco concerned products, while 18% of tweets discussing Kroger pertained to customer experience.
The study found that the vast majority of tweets, 97%, made no reference to the brands' Twitter handles and only contained the company's name. As a result only 352 out of 11,732 customer messages about any of the four brands on Twitter were directly communicated. For every direct @mention received, another customer tweeted about real dissatisfaction with the retailer, presenting a significant opening for companies to reach out and address these real customer service issues. The huge volume of tweets about a company— more than 30 times the number of @mentions they receive— speaks to the fact that it is now essential for businesses to have the tools and expertise to filter through the noise and identify the tweets that require a response.
"A vast number of people are now turning to Twitter to engage in conversations about and with their favorite brands— presenting a huge opportunity for businesses to reach out to customers, efficiently identify conversations that need response, and prevent inquiries from escalating beyond repair," said Conversocial CEO Joshua March. "The results of this study indicate that customer service-focused brands who can preemptively respond to customers, before they turn to more expensive customer service channels, will reap multiple benefits including increased ROI, brand protection, and reduced customer attrition rates."
Leading companies are now reacting and responding to the flood of comments on Twitter. An increasing number of brands are actively identifying business critical tweets and implementing actionable solutions. Reflecting this emerging trend, Conversocial recently released Proactive Customer Service Channels, a tool to help social customer service teams filter through the noise, and locate and respond to all customer issues via Twitter irrespective of the Twitter handles or hashtags. By utilizing Conversocial, companies enhance the ability of their customer service agents to effectively manage the high volume of diverse social customer service requests received daily through social media interactions.
About Conversocial
Headquartered in New York and London, Conversocial continues to expand into the American market. Conversocial has processed more than 330 million customer service interactions on social media and is deployed in more than 20 countries. Companies and organizations such as American Greetings, Barclaycard, Charity USA, Groupon, Hertz, Hudson's Bay, Net-A-Porter, Ogilvy, Sephora, Tesco, The University of Phoenix, Tupperware, Waitrose, and Vitalicious are using Conversocial's Software-as-a-Service to manage the flow of customer service enquiries and discussions on Facebook and Twitter.
For more information contact: Anna Drennan, Anna(at)Conversocial(dot)com or Michael Cecil, 212-362-1307, Michael (at)Thunder11(dot) com.