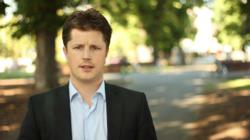 You have to identify what the market is. Who are you actually going to sell this product to, and what is their core problem
Melbourne, Au (PRWEB) February 20, 2013
The Multimedia Marketing Show with Jake Hower recently released its interview of multimedia product creation expert Greg Rollett on creating and marketing products online.
Hower first asked about Rollett's beginning in internet marketing.
"I went to the local Home Depot store and got some whiteboards and I nailed the whiteboards to my wall. I put this little camera on a bar stool, and I put some books on top of the bar stools to make a kind of ghetto-rigged tripod, and I shot four videos. They were about 30 minutes each. I was just like, 'Hey what's up? This is Greg. I'm going to teach you some cool stuff'," answered Greg Rollett.
"I taught musicians internet marketing 101. It's a product that's called 'The New Music Economy.' It's still on and selling online today, to this day. It's been five years now. We sold over, I think, 3,500 copies of this product now. It changed everything for me, because no longer did I have to have one client and actually do stuff for them. I can actually just create this product, throw it online, do some marketing, and these clients would come in … I mean I have more clients from where you're at, Australia, New Zealand than I do in the United States because they find me online. From there, I mean it's just escalated," he continued.
Hower then asked what makes up a typical product for Rollett's customer.
"You have to identify what the market is. Who are you actually going to sell this product to, and what is their core problem? So many times, when I'm working with clients, the first thing they do is, 'I want to create this product on leadership,' or 'I want to create this product on outsourcing, or hiring.' Just because they have a little bit of knowledge about that subject or whatever the case is but the marketplace actually doesn't care. They don't have a need. There's not enough of a buying audience," answered Rollett.
Marketers interested in learning how to create and leverage their content for maximum results can listen to the in depth interview at MShow.co/Rollett.