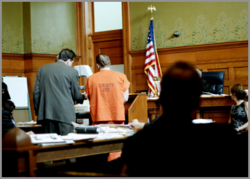 quick and effective help
San Antonio, Texas (PRWEB) February 19, 2013
The Law Offices of Jesus R. Lopez has announced an expanded availability of bail bonds in the San Antonio area. This allows a unique opportunity for individuals facing criminal charges to have an experienced criminal defense attorney represent them and bond them out as well. Normally when an individual gets released on bond from a bail bond company, they then have to seek out a criminal defense attorney for representation. The announcement of this expanded service allows clients to have one convenient location to take care of all of their needs. The experienced and knowledgeable staff at the Law Offices of Jesus R. Lopez specializes in bail bonds and criminal defense, meaning you'll be out of jail in a timely and efficient manner. For these San Antonio Defense Lawyers, there is nothing more important than your freedom.
Law Offices of Jesus R. Lopez is comprised of licensed and dependable San Antonio criminal defense lawyers serving the Bexar County area. Whenever you find yourself in trouble, there is only one company to trust to have you released as soon as possible. Following an arrest, trials can take weeks and months to come to fruition, so it is essential you count on the experienced lawyers at Law Offices of Jesus R. Lopez to arrange the financial aspects of your release. Let your lawyers negotiate the stipulations of your bail, so you and your family don't have to worry.
Immediately following your arrest, a bail bond will be posted for your release. Often times, this amount is simply too high for the average American to afford. With the seasoned San Antonio defense lawyers on your side, your release can be organized in not only a timely manner, but a cost-effective one as well. Regardless of your income, they will work tirelessly to arrange the best plan for you.
"We are working hard for our customers who need immediate bonding help," said Jesus Lopez, Owner of Law Offices of Jesus R. Lopez. "We are expanding our service area and we will continue to provide quick and effective hep when you or a loved one needs to get out of jail. We provide safe, respectful and confidential service."
Law Offices of Jesus R. Lopez offers confidential, quick and dependable 24 hour a day bail bondsman service. Law Offices of Jesus R. Lopez offers various payment options and renders service across the state of Texas.
About Law Offices of Jesus R. Lopez
Law Offices of Jesus R. Lopez offers confidential, respectful help during your vulnerable time of need. Fast, dependable 24 hour a day bail bondsman service. Law Offices of Jesus R. Lopez offers various payment options and renders service across the state of Texas. Law Offices of Jesus R. Lopez is located in San Antonio, Texas and operates daily in the Bexar County area. If you or someone you know is in trouble and needs help posting bail - Call the experts: Call Law Offices of Jesus R. Lopez NOW! Learn more on our web site: http://www.sanantoniobonds.com