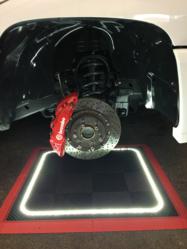 "We introduced this product in 2012 and have already received orders from NASCAR teams for use in their garages. At the SEMA Show, even Richard Petty laughed as he commented about the product stating, 'A flashlight in the mouth will no longer be needed!'"
(PRWEB) February 19, 2013
With the introduction of Swisstrax's LED Light Mat in 2012, its innovative design and function was validated with its Global Media Award win at the 2012 SEMA Show in Las Vegas. A prestigious group of 25 international journalists from 16 key automotive markets served as judges for the awards.
"It is an honor to have received this award and confirms Swisstrax's commitment to our onward development and maintaining of Swisstrax's position as the 'World's Finest Modular Flooring!" said Swisstrax President Randy Nelson.
Named the Swiss Light Mat, it is an LED lighted floor mat that projects up to 2,000 lumens of light. With the integration of an LED light strip that is countersunk to fit into eco-friendly Swisstrax garage floor tiles that are made with 100% recycled materials including tires, the mat is cool to the touch and lighting is guaranteed for 50,000 hours. The mat provides illumination without sacrificing strength. It can support jacks, jack stands and even vehicles.
"We introduced this product in 2012 and have already received orders from NASCAR teams for use in their garages. At the SEMA Show, even Richard Petty laughed as he commented about the product stating, 'A flashlight in the mouth will no longer be needed!'" said Nelson.
The Swiss Light Mat is portable and non-slip when wet. It is ideal for assembly lines, working garages and body shops, particularly when working under a chassis where light repositioning is often necessary. The mats are made with black Swisstrax tiles and have a beveled 2.5-inch gently-sloping edge along with a 25-foot long plug-in cable. Available in four standard sizes, Swisstrax also accommodates custom size requests. In addition, edges are available in four colors: Citrus Yellow, Pearl Silver, Racing Red and Royal Blue.
Swiss Light Mats are available in the following standard sizes:

52" W x 36" L x.75" H (LED-Powered)
36" W x 36" L x.75" H (LED-Powered)
36" W x 20" L x.75" H (LED-Powered)
20" W x 20" L x.75" H (LED-Powered)
Most recently at Barrett-Jackson Scottsdale, the Swiss Light Mats were used by Brembo to showcase their brakes. The mats were also used as a tool where lighting was required below a vehicle. In what would normally be a dark area, the LED light mats provided more than sufficient lighting, leaving the workers' hands free to work.
Adding to what can be expected this year, Nelson said, "Swisstrax will continue with the development of this program with new product introductions for 2013 such as our Car Dealership LED Display pads."
# # #
About Swisstrax:
Swisstrax offers a practical and modern alternative to standard concrete and epoxy garage flooring. The product line, which was first developed in Switzerland over 19 years, was relocated in 2003 to Southern California; for both manufacturing and distribution. Swisstrax distinctive modular flooring has become the flooring of choice for a variety of automobile manufacturers, race teams and retailers.