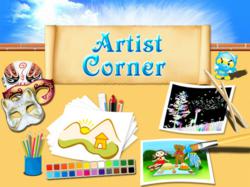 Xidasoft artist corner, an interactive drawing app for the ipad
(PRWEB) February 20, 2013
Imagine such a world where you can spend the whole day on iPad, create masterpieces with a realistic look and feel, share to online gallery and wait for comments and approval from other artists, which will get to you as messages. Professional artists and novices alike can draw and paint on the iPad with Artist Corner.
Created by Xidasoft, the iPad-exclusive Artist Corner gives users inspirational ideas: fairy tales coloring images, printable Halloween or Party mask coloring pages, cute dinosaurs and dogs and appealing canvas for scratching paintings or drawing realistically from your imagination. Totally free colors, a variety of tools, including pencils, paintbrushes, markers and erasers, which can be changed in size.
Xidasoft included some fun new features in its new Artist Corner 1.05. The weird thing about Artist Corner is that users can follow others and get followers just like Twitter. All works of your following artists are available from the My following pictures. Newly added "Artists" page lists all registered user with scores they earned. Users are encouraged to get scores by sharing works, commenting others and being liked by others.
Artist Corner is available in APP store now. Download FREE Artist Corner https://itunes.apple.com/us/app/artist-corner/id581862375?ls=1&mt=8 and quickly check it out.