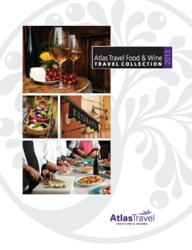 We feel that offering the world's most creative culinary travel is a natural extension of the Clarke brand.
Milford, MA (PRWEB) February 20, 2013
Clarke, New England's official Sub-Zero and Wolf showroom and test kitchen, has announced a unique partnership with Atlas Travel, one of North America's top travel management companies, to offer The 2013 Atlas Travel Food & Wine Travel Collection. This new culinary travel service provides custom vacation planning to destinations including Napa Valley, Italy, South Africa, France, New Zealand, Argentina and Chile. In addition, The Wine & Food Travel Collection offers a rich variety of river cruises and ocean cruising.
"We are very excited about this new travel initiative," said Sean Clarke, general manager of the award-winning appliance distribution company. "We are always looking for new ways to enhance the Clarke Continuum of Care by offering discerning homeowners new ways to experience excellence in the world of food and wine. The team at Atlas Travel has provided excellent service to our company for more than 20 years. This partnership allows us to extend that travel expertise to our New England customers, dealers and the design community."
The Atlas Travel Food & Wine Travel Collection was launched on Feb. 16th at The Boston Wine Expo at the Seaport World Trade Center. Atlas Travel gave away a Napa Valley Wine Getaway and promoted not only The Travel Collection, but also an extraordinary April 11th evening of wine, food & travel at Clarke's showroom and test kitchen in Milford, MA. At the Clarke event, James Beard award-winning French Chef Jean-Louis Gerin will be cooking live and guests will have an opportunity to win a California Wine Country Getaway, as well as a Sub-Zero wine storage unit.
"Culinary travel is one of the fastest-growing niches in vacation travel," said Atlas Travel CEO Elaine Osgood. "Our Vacations & Cruises division, headed by Karen McCrink, has earned a reputation for superior service, offering detailed and creative vacation planning to our growing list of corporate VIPs. This new Travel Collection reflects itineraries to whet the appetite of epicureans, however every trip will be custom designed to offer the special features that most inspire the travelers. These might be culinary classes in a villa in Italy, a market trip with a local chef, winery tours and tastings, olive picking in Tuscany...the list continues to evolve as our team makes new connections and develops relationships with culinary leaders around the world."
According to Clarke, they will include The Atlas Travel Food & Wine Travel Collection in many of their customer communications to highlight the exciting ways homeowners and their designers can learn about global destinations through their culture of food and wine.
"We feel that offering access to the world's most creative culinary travel is a natural extension of the Clarke brand," said Sean Clarke. "We will also work with Atlas Travel to create trips led by some of our favorite chefs. The Clarke Culinary Center is home to events featuring some of the finest Italian, French, Indian, Portuguese, Asian and American chefs in America. When their schedules allow, they will lead trips and share their knowledge, taking their fans on culinary journeys orchestrated by Atlas Travel Vacations & Cruises."
Clarke is no stranger to offering unique extensions of their core business, which is high-performance appliance distribution, to enhance their customers' lifestyle choices. Clarke also owns and operates Clarke Customer Care, the top appliance service company in New England, as well as The Clarke Culinary Center, which offers culinary classes and events with celebrity and local chefs. In addition, they own Savoir Fare, a showroom boutique and online store offering the finest cookware, bakeware, barware, kitchen tools and linens from around the world.
For more information about The Atlas Travel Food & Wine Travel Collection, visit http://www.clarkecorp.com/culinarytravel.
About Clarke
Clarke is the official New England Sub-Zero and Wolf showroom and test kitchen. The award-winning appliance distributor also represents Asko, Best, Scotsman, KWC and Dawn through expansive showroom resource centers in Milford, MA and South Norwalk, CT. Homeowners can experience these appliances in dramatic kitchen vignettes, without any pressure to purchase. Clarke also offers Clarke Customer Care, a dedicated repair service for their brands, that has earned them "Best in New England" customer satisfaction ratings. They also offer cooking classes and events from Clarke corporate chefs and celebrity chefs at The Clarke Culinary Center inside their showrooms and recently launched kitchen boutiques and an online store at http://www.savoirfare.com where homeowners can purchase the finest cooking tools. For more information, visit http://www.clarkecorp.com.
About Atlas Travel
Atlas Travel is an award-winning travel management company offering corporate travel, vacation planning, meetings and incentive services. Atlas is a BCD Travel affiliate offering global travel to more than 90 countries on six continents. Atlas has been distinguished as a member of the Inc. 5000 and Travel Weekly's Power List. Atlas Travel CEO Elaine Osgood has earned the Ernst & Young Entrepreneur of the Year award and been honored by Fast Company as "One of the Top 25 Women Business Builders in North America." Atlas Travel is known for providing easier travel and better management to companies across the United States. For more information, visit http://www.atlastravel.com.