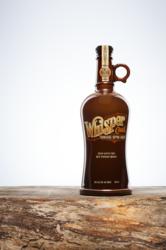 Whisper Creek has carved out a unique niche in the spirits industry sure to grow in the years ahead.
Nashville, TN (PRWEB) February 19, 2013
This week, iostudio was named the agency of record for Whisper Creek™ Tennessee Sipping Cream, the flagship product offered by SPEAKeasy Spirits. The Nashville-based agency will design and execute a strategic marketing campaign for Whisper Creek to include creative collateral. iostudio previously designed and distributed Whisper Creek's first marketing promotion, an original newspaper called The Sipping Times, to key markets across the state.
Thirty all-natural ingredients create the complex flavor of the whiskey-infused, cream-based liqueur, which includes notes of real caramel, red apple, pecan and burnt molasses, blended with care to maintain the signature taste and feel of a true Tennessee whiskey. With an altogether distinct flavor profile and character, Whisper Creek offers a new alternative to other cream liqueurs.
By blending fresh dairy cream with locally distilled and charcoal-mellowed whiskey to create the 40-proof liqueur, Whisper Creek has already generated substantial buzz among groups of beverage and culinary tastemakers.
"The Tennessee Sipping Cream has carved out a unique niche in the spirits industry sure to grow in the years ahead," said Mitch Powers, CEO and president, iostudio. "This is a truly unique and memorable product that is already making major waves in the industry."
Widely available throughout Tennessee, Whisper Creek recently moved north to the Chicago market with great success and has just been introduced to South Carolina, with plans to expand into additional markets later this year. iostudio will support Whisper Creek thoroughly in their plans to strategically grow their current distribution nationally, to new markets and new consumers searching for that authentic Southern flavor.
About iostudio
iostudio is a national creative marketing and advertising agency with offices in Washington, DC, and Nashville, TN. The agency provides full-service advertising, film production, customer care and content marketing to a range of clients across a number of industries, with a portfolio that includes notable private industry and not-for-profit clients such as Goodall Homes and Second Harvest Food Bank of Middle Tennessee, as well as the U.S. Navy, Marine Corps, and Army and Air National Guard.
For more information, visit http://www.iostudio.com or http://www.facebook.com/iostudio.