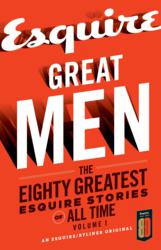 Esquire and Byliner Publish GREAT MEN
New York and San Francisco (PRWEB) February 20, 2013
In honor of its eightieth anniversary, Esquire has mined the archives to showcase the greatest stories in its illustrious history: eighty stories, collected in a series of ten monthly e-book anthologies, in collaboration with the new digital publisher Byliner. The first volume, Great Men, features epic profiles—many being republished for the first time ever—of eight men who helped invent our world:
Gay Talese on Joe DiMaggio
Tom Junod on Mister Rogers
Michael Paterniti on Ferran Adrià
Garry Wills on Martin Luther King
Chris Jones on Roger Ebert
Tom Wolfe on Robert Noyce
Scott Raab on Paul Newman
Joe Nocera and Tom Junod on Steve Jobs
"One ambition of Esquire that has been constant throughout the decades has been our drive to recognize and take the measure of the men who invent our world and leave a deep mark on it. So it's fitting that we begin with Great Men," says David Granger, Esquire's editor in chief.
An additional e-book anthology will be published each month—ten in all—leading up to Esquire's anniversary, in October 2013. Each edition, on themes such as war, politics, sports, and fiction, will be packed with the greatest bylines of the 20th and 21st centuries, from titans such as F. Scott Fitzgerald, Nora Ephron, Michael Herr, Dave Eggers, Truman Capote, Ernest Hemingway, John Sack, David Foster Wallace, Pete Dexter, and many, many more.
Since publishing the first e-ink cover, in 2008, followed by the first augmented-reality cover and, most recently, its use of Netpage, Esquire has been a trailblazer in digital innovation. So it was a natural step for the magazine to partner with Byliner, a leader in digital publishing. Beginning with Great Men, each volume of the eightieth-anniversary e-book anthology series will be available in all the major digital bookstores for $3.99 per edition or via subscription on Byliner.com.
"For eighty years, Esquire has consistently published some of the finest short fiction and narrative journalism anywhere. And for the last fifteen years, under David Granger, the magazine has also embraced technical innovation," says Mark Bryant, Byliner's editor in chief and co-founder. "We're very pleased to be uniting these two traditions in an exciting new partnership that speaks to so much of what Byliner, and Esquire, are all about."
About Esquire: Esquire, published by Hearst Magazines, is a general-interest magazine for men. Founded in 1933, Esquire offers pieces on diverse topics from politics and sports to style and the arts. Esquire is the most honored monthly magazine in America, with a total of sixteen National Magazine Awards over the past fifteen years. In addition to its U.S. flagship, Esquire publishes twenty-two editions around the world.
About Byliner: Byliner commissions and publishes original stories written to be read in two hours or less. These "e-short" stories are available on phone, tablet, or computer as part of the Byliner subscription service, and can also be purchased individually through the major digital bookstores. Bestselling Byliner titles include Richard Russo's Nate in Venice, Jon Krakauer's Three Cups of Deceit, Amy Tan's Rules for Virgins, Ann Patchett's The Getaway Car, Nick Hornby's Everyone's Reading Bastard, and Buzz Bissinger's After Friday Night Lights. On Byliner.com, readers get personalized access to an unmatched library of more than 20,000 fiction and nonfiction stories by the world's best writers, allowing them to easily find, read, save, and share new and classic stories by their favorite authors.
Great Men is available for $3.99 at Amazon's Kindle Store, Apple's iBookstore, BarnesAndNoble.com, and Kobo. To read an excerpt, visit Byliner.com. For an Advance Reading Copy or to schedule an interview with David Granger or anthology editor Tyler Cabot, please contact Clare Hertel at clare(at)byliner(dot)com, 505-474-6783; or Stephanie Tuck at Stephanie_Tuck(at)dkcnews(dot)com, 212-981-5170.