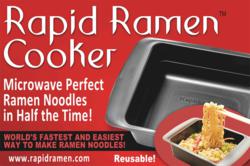 SACRAMENTO, Ca (PRWEB) February 20, 2013
Rapid Ramen is proud to introduce its signature product, the Rapid Ramen Cooker, at the International Home + Housewares Show 2013 in Chicago March 2-5. Launched in November 2012, the Rapid Ramen Cooker is the quickest and easiest way to make perfect ramen noodles every time. And after only three months on the market, the Rapid Ramen Cooker has already launched into major national retailers like Wal-Mart and Safeway! Retail buyers and members of the media in attendance will want to stop by booth # N7361 in the Inventors Corner and the New Product Showcase to be among the first to check out the new product!
For those contributing to the 3.9 billion instant ramen products consumed annually in the US, according to the World Instant Noodles Association, the cooking process for perfect ramen noodles has become faster, easier and even healthier than ever before!
Most instant ramen comes with cooking instructions that require boiling water on the stove, a process that can take up to six minutes, plus the six-minute cook time, and the additional cooling period before being able to enjoy the noodles. The Rapid Ramen Cooker lessens the cooking time by more than half, only requiring four minutes in the microwave! Once ready, the two heat-resistant handles make removing the bowl from the microwave safe and easy, and the ramen can be enjoyed straight from the bowl!
The secret is the patented reservoir design that circulates the water providing perfect heat distribution. The noodles get placed in the bowl, designed specifically to the dimensions of a block of ramen noodles, water is added to the fill line and the bowl is microwaved for only four minutes! No waiting for water to boil, no trying to convert stove-top instructions to the microwave with poor results, just perfectly cooked ramen every time.
Additionally, the Rapid Ramen Cooker only requires one cup of water to cook, rather than the two required for stove-top cooking. This allows consumers to use only half the seasoning pack, which significantly reduces their sodium intake without reducing the great ramen flavor everyone loves.
The Rapid Ramen Cooker is available at major nationwide retailers like Wal-Mart and Safeway, and retails online for $9.99 at Amazon.com and RapidRamen.com, making it an affordable addition to every ramen eater's kitchen or even dorm room! To learn more, please visit http://www.RapidRamen.com.
About Rapid Ramen
Launched in November 2012, Rapid Ramen Cooker is the fast and easy way to cook perfect ramen noodles in the microwave in minutes. Never fuss with boiling water or pots again and cook ramen noodles in half the time. It's easy to use and makes perfect ramen noodles every time. http://www.RapidRamen.com
###