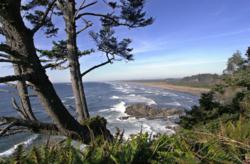 Almost everyone who sees a whale's spout or fluke is inspired.
ILWACO, Wash. (PRWEB) February 21, 2013
The Lewis and Clark Interpretive Center, at Cape Disappointment State Park in Ilwaco, will participate in a week's worth of informal whale talks, naturalist interpretation, and assistance with spout, fin and fluke spotting during 'Whale Watching Spoken Here,' March 23 through 30, on Washington's Long Beach Peninsula.
The event is timed to coincide with the predicted first sightings of the North Pacific gray whale migration from Mexico's Baja Peninsula, up the Pacific coastline, to food-rich Arctic waters. This northward migration is of particular interest because mothers are swimming with their newborn calves and have a tendency to swim nearer to shore. Whale sightings from vantage points on the Long Beach Peninsula are anticipated to continue through June.
"Even during migration whale sightings are sporadic," shared Aaron Webster, Interpretive Specialist, Cape Disappointment State Park. "Still, almost everyone who sees a whale's spout or fluke is inspired and, for many of our visitors, a sighting creates a lasting memory."
While spotting whales in the wild is always an iffy prospect, during "Whale Watching Spoken Here," visitors can gain insight into the general anatomy, feeding patterns and behavior of gray and other great whales. Plus, people will learn about the advantages of unobtrusive, land-based whale watching, a growing trend among conservationists.
To help ensure whale watching success, people are encouraged to do the following: Look for whales on a calm morning, before the sun's reflection creates glare; first scan for spouts (whale's exhale) and then use a spotting scope or binoculars to get a better view; and avoid days with high winds, high surf and whitecaps, as these conditions make spotting whales nearly impossible.
Two additional whale-watching platforms in Cape Disappointment State Park include North Head (the grounds surrounding North Head lighthouse) and Bell's View Overlook, accessed by the ½-mile long Bell's View Trail. In the beachside town of Long Beach, a one-half mile long boardwalk constructed over the sand dunes and the fourth-story view from Pickled Fish restaurant atop the Adrift Hotel also provide good platforms for spotting whales. For those interested in the structure of a whale, the skeletal remains of a gray whale anchor the south end of the boardwalk.
Cape Disappointment State Park
One of Washington's most popular state parks, Cape Disappointment State Park encompasses the southwest tip of the Long Beach Peninsula. The ADA-accessible park boasts two historic lighthouses, pristine beaches, old-growth forests, interpretative and hiking trails, yurts and camping spots, an outdoor amphitheater, and a world-class interpretive center. A Discover Pass is required for entrance to all state parks, and a nominal admission fee is charged for the Lewis and Clark Interpretive Center.
About Southwest Washington's Long Beach Peninsula
With its mix of sensational restaurants, local seafood, ocean-view lodging, colorful festivals, unique museums and attractions, landmark lighthouses, fine art galleries, easily accessible trails, birding spots, state and national parks, and, above all, its long, wide, windswept beach, the Long Beach Peninsula continues to be one of the Northwest's most enjoyable and refreshing coastal destinations.
Located 2.5 hours from Portland and 3.5 from Seattle, the Peninsula is a longtime favorite for those seeking easily accessible outdoors, great food and affordable creature comforts. For more information on the Long Beach Peninsula, please access http://www.funbeach.com or call the Long Beach Peninsula Visitors Bureau at 800.451.2542.