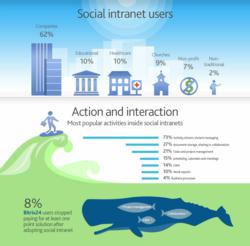 Emerging markets are on fire. The top 10 social intranet users by country are as follows: US, Russia, India, Brazil, UK, Philippines, Germany, China, Indonesia, Canada.
Alexandria, VA (PRWEB) February 22, 2013
Top 10 Social Intranet Trends*:
1. Social intranet is small, real small, and that's good news. The median Bitrix24 intranet size is only 9.7 users. Small businesses are embracing social intranet when it's offered as affordable SaaS that does not require deployment.
2. Social intranet isn't just for business. While 62% of social intranet users are companies, 10% are educational institutions, another 10% are healthcare providers, 9% are religious institutions (churches), 7% are non-profits, and 2% are non-traditional users that can't be easily classified (kindergarten, musical group, Navy Seals endurance training, tantric sex coach).
3. Social intranet is a BYOD (bring your own device) affair. As of Jan 2013, 18% of Bitrix24 users access corporate portals from smartphones and tablets, not PCs. We expect the trend to continue.
4. The box is dying, but… While 70% of our clients prefer using cloud-based SaaS, 30% insist on having a box version for security and privacy reasons. Several countries, like Germany, have restrictive privacy and personal data use legislation, forcing companies to store data on their own or approved servers.
5. Emerging markets are on fire. The top 10 social intranet users by country are as follows: US, Russia, India, Brazil, UK, Philippines, Germany, China, Indonesia, Canada.
6. Skepticism about the social intranet concept isn't over yet. While 87% like social intranet idea and believe it will increase employee productivity, the other 13% prefer a classic intranet concept and think that social features will either be misused or won't add anything of value.
7. Talk and work. The most popular activities inside social intranets are as follows: 73% - activity stream, instant messaging, and comments; 27% - document storage, sharing or collaboration; 21% - tasks and project management; 15% - scheduling, calendars and meetings; 14% - CRM; 10% - work reports; 4% - business processes.
8. Social intranet is changing traditional work patterns. For example, 60% of Bitrix24 users access the corporate portal on weekends at least once and 12% of Bitrix24 users accessed their portal on Christmas Day.
9. Social intranet is addictive - 13% of social intranet users use the extranet to work with clients, freelancers or service-providers, exposing it to a wider audience.
10. CRM, Project Management and Collaboration software is being absorbed by wider social intranet solutions. Almost 8% of Bitrix24 users have stopped using at least one service or software because a similar tool was already available in their social intranet package. Most frequently dropped were CRM and project management.

Other trends of interest:
Social intranet is frequently adopted on a department level (sales, HR, marketing, IT), meaning it's used inside one department and not the whole company. In several instances Bitrix24 was used inside a department because the company intranet lacked necessary features. Several clients stated that they got introduced to social intranet by another company (Jive, Yammer, Podio, Chatter) but found it either too difficult to use, lacking features or not appropriately sized for their business, meaning there's a large segment of enterprises that aren't being serviced by traditional intranet providers. Law offices, health care providers, travel agencies and real estate agents seem to be particular hungry for industry specific solution.
Background information:
Bitrix, Inc., a top CMS maker ranking 14th in use among all systems in the world's top million sites, entered the intranet market in 2008. Bitrix firmly holds second place after Microsoft SharePoint in several European markets with over 5000 intranets deployed. In April 2012, the company launched Bitrix24, a cloud-based social intranet for business, reaching 40,000 signups within a few months. With both cloud and onsite options available to clients, and transitioning between the two, Bitrix holds a unique position for gauging the latest intranet trends.