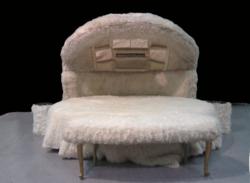 New York, NY (PRWEB) February 23, 2013
Auction Of Elvis Presley's Bed To Open 2nd Annual Winter Designer Fine Furniture Sale March 9-10, 2013.
Following the success of their first Fine Furniture sale, White Glove Transportation, a leader in Fine furniture logistics and delivery for the design community, is holding the Second Annual Winter Designer Fine Furniture Sale, for two days on March 9th and 10th. Located at The Altman Building at 135 West 18th Street in New York, the sale is offering over 500 pieces with a discount of up to 75%. Items include designs from showrooms such as Andrew Martin, Profiles, Grange, TK Collections, and more.
To celebrate the event, there will be a VIP opening night preview event on March 8th to benefit Alpha Workshops; the nation's only non-profit organization providing creative HIV-positive individuals with industry-specific training and employment in the decorative arts. The centerpiece of the event is the auctioning of Elvis Presley's white fur bed from Graceland. "Showcasing furniture from an iconic legend of American culture like Elvis Presley is the perfect balance of playful and nostalgia to kick off the sale" notes Neil Deutsch of White Glove Transportation. "Couple that with a great cause and never before access and pricing from top designers and this is an exciting opportunity". Elvis Presley's bed will be on display throughout the sale.
The 2nd Annual Winter Designer Fine Furniture Sale will have over $3 Million Dollars of Fine Furniture on display for immediate sale. White Glove Transportation will be on hand to facilitate a seamless and expedited delivery of each purchase. The event is open to both Interior Design industry professionals, as well as the general public. "Last year's sale was a huge success. With the commitment of such high end showrooms and the aggressive sale pricing once again we expect a tremendous turnout," states Deutsch.
2nd Annual Winter Designer Fine Furniture Sale- The Altman Building
March 9 & 10
10am-6pm
135 West 18th Street
New York, NY
White Glove Transportation Services is a full service blanket wrap logistics company that for over 25 years has serviced the Fine Furniture Design community.
For more information on the first annual Winter Fine Furniture Designer Warehouse Sale and White Glove Transportation contact Neil Deutsch at 1-888-821-0808.
Neil Deutsch
info(at)whiteglovetransportation(dot)com
1-888-821-0808