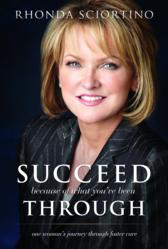 Rather than being held back by painful experiences, mine the lessons and succeed because of them.

Newport Beach, CA (PRWEB) February 25, 2013
There is a sub-section of the population in the US whose unemployment rate is estimated to be over 50%. It is the population of former foster youth, which Foster Care Alumni of America estimates at 12 million. FCAA also states that as many as 50% of former foster kids are homeless within 60 days of leaving the foster care system. Homelessness often leads to drug dealing and use and human trafficking, commonly referred to as prostitution.
Government estimates for the cost of services related to homelessness, drug use, criminal behavior, welfare, indigent medical and mental health services, total nearly $24 billion annually.
On Monday, March 4th a new online course, Succeed Because of What You've Been Through, will be released which seeks to help people help themselves. The creator of the course, Rhonda Sciortino, is a foster alum and spokesperson for Foster Care Alumni of America.
Many who read Succeed Because of What You've Been Through reported dramatic turnarounds in their lives. One man reported that his wife read the book at a time that she was suicidally depressed, and after reading the book she completely turned her life around and is happier and healthier than she has ever felt in her life. Others reported being chosen for jobs, promotions, and even starting their own businesses. So when UDEMY.com, an online learning platform, contacted Rhonda Sciortino to consider creating an online course based on her book, she agreed.
In our interview with Rhonda Sciortino, she said, "All five points of prosperity will not show up in your life by chance. Most people who are suffering under the burden of poor health, dysfunctional relationships, strife, depression, and financial lack want a better life, but have no idea how to get it. Many people dismiss the possibility of ever having a better life thinking that they're too old, lack the right education, lack the financial resources necessary to make changes, don't know the right people, etc. Many resign themselves to whatever rut they're in thinking that whatever adversity they've faced, or are facing now, has destroyed their chances of a better life."
Sciortino goes on to say, "The truth is that we can each create our own personal and professional success. It doesn't happen randomly. It happens intentionally, as a result of specific steps that only we can do." So Rhonda Sciortino has worked with UDEMY.com to create Succeed Because of What You've Been Through Level 1, which will be released on March 4, 2013.
The course, available at http://www.rhonda.org will cost $39.00, but will be free to anyone who was ever in the foster care system.
For more information on Rhonda Sciortino, go to http://www.rhonda.org. For information on Foster Care Alumni of America, go to http://www.fostercarealumni.org. Rhonda's books are available at Amazon.com, Barnesandnoble.com, and at http://www.rhonda.org/store. For every book sold at http://www.rhonda.org, a book is given to a foster child.