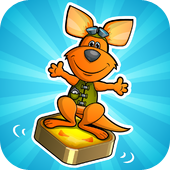 An awesome entertainment for the brain
Kaluga, Russia (PRWEB) February 23, 2013
Picture walking on sky-high blocks and your life depends on every move you make. Game character, a kangaroo, can move from one block to another until it reaches the ladder that will take him to the next level. Easy as it sounds, it's about to get tougher.
These blocks have arrows on them and, while character can step on the blocks from either side, the block can twist 90 or 180 degrees left or right. The degree of the twist is given by the color of the block (orange-no rotation, green-90 degrees right, yellow-180 degrees right, blue-90 degrees left).
Twisted Ways is "an awesome entertainment for the brain as it makes you double think every new step you're about to make. For the ones passionate about puzzle and strategy games, Twisted Ways will surely challenge you in so many unexpected ways. The most amusing part of the final development stages was when I had friends try it. After watching the demo video, they set off thinking it's going to be pretty easy. Soon enough, the situation took a twist and they were having difficulties passing levels without making a strategy or pondering before their next move", says Stanislav Fedorov, the app developer.
Device requirements, pricing and availability:

iPhone 3GS, iPhone 4, iPhone 4S, iPhone 5, iPod touch
Requires iOS 4.3 or later
18.1 MB
Twisted Ways is a paid game ($0.99) and available worldwide exclusively through the App Store in the Puzzle Games category. Review copies are available upon request.
Twisted Ways paid iOS game:
Fan page
Download from iTunes
Facebook
Twitter