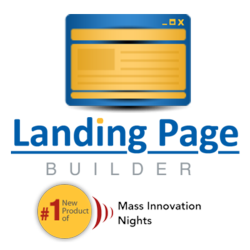 Landing Page Builder is an absolute 'Must'
Cambridge, MA (PRWEB) February 27, 2013
Landing Page Builder, the newest online marketing innovation by KMT Software, Inc., allows users to easily design, publish, and track conversion-driving Landing Pages for Email, Pay-per-Click, and Display Advertising purposes. It is the first online optimization tool that supports both mobile and desktop requirements so that users can create a single campaign and know that any page (mobile or desktop) will be perfectly served. Landing Page Builder includes the following features:

75 tested and proven page layouts
Clear Calls to Action above the fold
Drag-and-Drop Editor - All elements in a design can be clicked and dragged to any location
Mobile Optimization - Automatically serves mobile-optimized page variants to smart phones, tablets, etc. from one URL
Comprehensive A/B Testing - Tracks Clicks and Conversions in real-time while testing multiple Page variants simultaneously
Lead Capture and Survey Forms - Users can customize and send automatic email responses and notifications; includes support for major ESP (Email Service Provider) integrations including MailChimp, Constant Contact, and many more
With Landing Page Builder, users can quickly and easily create Landing Pages for email, pay-per-click, and display advertising with no design experience required. Users choose from 75 designs, make simple edits, set conversions, and create both Desktop and Mobile page variants in only a few short steps. A short demonstration video has been included above.
Early Thought Leaders' Comments on the Product:
Karen Talavera, President of Synchronicity Marketing and noted email marketing expert, said, "Landing Page Builder is an absolute 'must' for any small business hoping to improve their marketing conversions. With its "done-for-you" designs that couldn't be easier to edit with your own copy, this professional level marketing tool becomes possible for anyone, no experience needed."
Rob Cooper, President of PlusROI Online Marketing, stated simply, "I immediately saw the value it could provide our clients in improving their PPC conversions. The service is so easy to use that you simply can't ignore this marketing boost."
#1 New Product of Mass Innovation Nights© 45:
Landing Page Builder received the "Top Product" award at Mass Innovation Nights 45, a monthly product launch party and networking event showcasing new products and innovations. Every month, event guests review and vote for their favorite new products. Landing Page Builder received the most votes at the December 12, 2012 event at the Boston Globe Headquarters.
Landing Page Builder is available now at KMT Software's High Impact Designer website with plans starting as low as $14/month. All of the High Impact Designer Applications, including Landing Page Builder, can be white-labeled by any company that wishes to market these services to their customer base.
About KMT Software, Inc.:
KMT Software was established in 1991 and currently encompasses three software brands: TemplateZone, High Impact eMail, and High Impact Designer. TemplateZone produces desktop software and is the world's leading supplier of studio quality HTML email template designs as well as exhilarating print marketing designs. High Impact eMail is an iPad Application created to allow users to design and send emails to groups on their mobile device. High Impact Designer is a suite of online marketing tools for Facebook, Email, and Landing Pages. With a community of over 2 million users, KMT Software is committed to helping small business professionals be more productive.