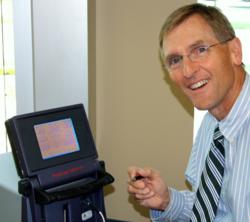 Richardson, TX (PRWEB) February 22, 2013
Kerry M. Goad, D.D.S., aggressively treats Richardson, TX patients suffering from dental periodontal disease with the minimally invasive Laser Assisted New Attachment Procedure (LANAP). The LANAP procedure utilizes an FDA-cleared laser to selectively eliminate bacteria lurking in the periodontal pockets. In addition, the laser allows the dentist to selectively remove only the diseased gum tissue. This advanced gum disease treatment leaves a patient's healthy gum tissue intact, which reduces receding gum issues.
Dental periodontal disease or gum disease affects millions of adults across the country each year. Many do not necessarily suffer the obvious symptoms, which often include gums that bleed easily or that are sensitive to food temperatures. In addition, many adults do not visit the dentist for regular checkups, so they are not necessarily seeking gum disease treatment. Unfortunately, without treatment, the disease will most likely continue to progress. In addition to the oral health issues the disease poses, it has also been linked to a number of more serious health problems including respiratory issues, coronary problems and even diabetes. The new LANAP laser treatment is minimally invasive and should encourage more patients to seek treatment.
The LANAP procedure starts with measurements of the periodontal pocket depths, so that the PerioLase MVP-7 laser can be used effectively to destroy the bacteria residing there. The laser is designed to ignore healthy tissue and bone so that only the disease is removed. The laser helps stimulate the healthy tissue to reattach to the roots of the teeth while encouraging regeneration of the jawbone in the affected area.
With the new LANAP procedure, patients no longer need to have anxiety about the use of scalpels or sutures. The laser gum disease treatment is the most current dental technology employed in the fight against dental periodontal disease. Additional information can be found at http://www.dallasgumsurgery.com.
Goad Dental is a general practice dental clinic, offering patients personalized dental care for Richardson, TX. Dr. Kerry M. Goad received his Doctor of Dental Surgery (DDS) from Baylor College of Dentistry in Dallas, Texas. He completed advanced training in restorative dentistry at the L. D. Pankey Institute in Key Biscayne, Florida, and is part of one percent of dental professionals providing the most recent FDA-cleared laser procedure for gum disease and periodontal treatment. To learn more about Goad Dental and their dental services, visit their website at http://www.dallasgumsurgery.com and call (972) 690-6653.