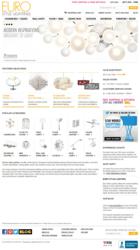 The top modern table lamp trends combine the twin ideas of function and form in surprising new ways.
Los Angeles, California (PRWEB) February 28, 2013
What are the top table lamp trends for modern homes this year? Each winter, the home decor industry gathers at trade shows in an attempt to uncover the next big thing in home decor. In its mission to deliver consumers the best in European inspired design, Euro Style Lighting, a California-based modern lighting and decor shopping website has scoured these events to identify the upcoming trends in table lamps. And the results of this search appear to buck many long held beliefs about modern design.
"Despite 'modern' being seen as cutting edge in sensibility, many things modern are actually rather classic, adhering to long held principles of clean, unfettered design," explains Cori Magee, Design Expert with Euro Style Lighting. "This year, we're seeing a movement away from that. Monochrome is giving way to color, minimal is giving way to detail, and clean metal finishes are giving way to earthier looks like rust and gold. And we're seeing lots of patterns." To help consumers shop these new styles, EuroStyleLighting.com recently rolled out new site search features allowing users to refine their queries by such design-minded criteria as finish, color, room usage, and much more.
"Pattern is back and it's going big in 2013," explains Magee. "High contrast, bold patterns feature chevrons and other geometric forms. There are a handful of Robert Abbey table lamps that have caught my eye for awhile." For the traditional modern lover, simple two color patterns are best. For the more adventurous decorator, Euro Style Lighting offers a series of lamp bases fitted with printed, patterned art shades. Using archival quality inks usually reserved for fine art reproductions, these printed shades transfer the decorative burden of the lamp from base to shade.
Top among the patterned art shade designs that Euro Style offers is a collection that matches more than sixty color bases with designer shades. With many of the colors matched to a particular designer paint or Pantone color, these boldly colored glass table lamps and floor lamps are available with both white and complementary colored art shades. They represent another growing trend in table lighting today: primary colors. "In contemporary design, color has gone from an exception to an expectation. Modern, open floor plans with sparingly used furnishings truly benefit from a pop of primary color."
For making a design statement, nothing glitters quite as brilliantly as gold. "Gone are snow white, birch, and stainless steel finishes commonly found in Scandanavian design," explains Magee. "This year, we're looking to northern Italy, even Monaco…which means gold. Offset with black, a gold table lamp can be used to an extra dramatic effect in modern settings." Gold and brass finishes feature heavily in table lamps this year, but consumers will also note a growing selection of modern gold chandeliers and other fixtures available on the market.
Gold's polar opposite, rust, returns again this year as the industrial look remains strong for 2013. "Imagine converted warehouse lofts and reclaimed waterfronts. Visit a restaurant or cafe in any new urban redevelopment project and you're bound to see rusted steel cage lamps with vintage Edison bulbs. This is the spirit of the industrial look," explains Magee. For stricter adherents to traditional modernism, brushed steel equivalents and LED bulbs offer a fresher, cleaner take on the classic industrial look.
Lastly, LED table lamps are gaining in popularity. As the price goes down for these long-lasting, energy efficient styles, things are looking up for LED lighting. "We've seen LED light get much warmer in the last few years. Today's lamps are beautiful to behold, on or off," says Magee. With lifespans much longer than incandescent bulbs and consuming a fraction of the energy per lumen output, energy saving LED lighting is sure to be the wave of the future.
"What we love about modern design is that, while it's trend driven, it is built around a tradition of permanence with the function of an object in some overt way always informing its form," concludes Magee. With a selection of more than 15,000 lighting and home decor designs, EuroStyleLighting.com offers consumers an opportunity to explore the many facets of modern, contemporary and transitional design.
About Euro Style Lighting
Los Angeles based Euro Style Lighting is an online retailer specializing in contemporary lighting for the home. The company also offers furniture and home décor, ranging from today's newest designs to ultramodern style. The Euro Style Lighting buying team sources fashion forward designs from across the globe to offer customers a collection of competitively priced products that emphasize aesthetic value, quality and – with a growing selection of LED and fluorescent lights – energy efficiency. Featured designers include Possini Lighting, Karim Rashid, Holtkoetter, Robert Sonneman, Jonathan Adler and more. In March 2012, Euro Style Lighting launched the Euro Style Home Blog, an information and inspiration destination for lovers of modern design, architecture and art.