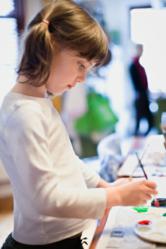 'We work with these children to heal and help them get past where the hurt happened,' Cindy Aguero, Shelby Day Treatment
Charlotte, NC (PRWEB) February 26, 2013
Alexander Youth Network celebrates the success of its Day Treatment program in Shelby, North Carolina, with an Open House on Thursday, March 7 from 4:00 p.m. to 6:00 p.m. at the facility located at 1201-2 S. Post Road in Shelby (28152-7417). Every day, 55 children come to Day Treatment, designed to serve children ages five to 18 who have had difficulty managing traditional school settings. The open house is designed to welcome the community and educate the public about the importance of behavioral healthcare services for children. To learn more about Alexander Youth Network's Day Treatment programs, visit http://www.alexanderyouthnetwork.org/daytreatment. To RSVP for the open house, contact Spencer Locher at 704-906-9733 or slocher(at)alexanderyouthnetwork(dot)org.
Throughout Alexander Youth Network programs, Day Treatment staff like those in Shelby work with children who have suffered emotional trauma caused by abuse, neglect or a diagnosed mental health disorder. As a result, these children often have behavioral challenges and difficulty fitting into traditional school settings. Alexander Day Treatment helps children from all four school zones in Cleveland County: Burns, Crest, Kings Mountain and Shelby. Currently the program is near capacity, and the need is great.
"We work with these children to heal and help them get past where the hurt happened," said Cindy Aguero, Supervisor and Lead Clinician of Shelby Day Treatment, who adds that intensive in-home services are also available for families. "We do whatever it takes to rebuild self-esteem and give children the tools they need to be successful and transition back to regular school where they belong."
In Day Treatment, enjoyable therapeutic activities can help children improve their behavioral skills while teaching them how to be productive in a class setting. These programs are designed and scheduled to meet the individual needs of children and their families.
Shelby Day Treatment is in need of volunteers to serve as mentors, tutors and reading buddies to children. Groups are also welcome to adopt classrooms and volunteer for "done in day" projects. For more information on how to get involved, visit http://www.alexanderyouthnetwork.org/getinvolved.
From eleven regional service locations, Alexander Youth Network serves children and their families from across the state with a complete continuum of quality services including: a Psychiatric Residential Treatment Facility, Day Treatment, Therapeutic Foster Care, Multidimensional Treatment Foster Care, Multi-Systemic Therapy, Intensive In-Home, Outpatient Services, Medication Management, and the services of The Relatives for at-risk, homeless, and aging-out youth. Alexander Youth Network is a flagship program of the Neurosequential Model of Therapeutics™ for addressing the clinical approach to trauma-focused therapies, and it has brought nine best-practice and evidence-based therapies to surrounding communities. For more information about Alexander Youth Network, visit http://www.alexanderyouthnetwork.org.