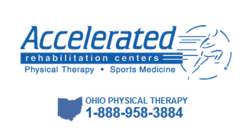 Accelerate your recovery with Accelerated!
Columbus, Ohio (PRWEB) February 23, 2013
Accelerated Rehabilitation Centers, a leading physical therapy and sports medicine specialist with locations throughout the mid-west and Arizona, today announced the launch of its new website http://www.PhysicalTherapyOhio.com.
The goal of Physical Therapy Ohio is to help people in Ohio improve their quality of life, by offering the opportunity for a complimentary consultation for their physical injuries by a licensed physical therapist. If left unchecked, injuries can become chronic, which may result in long-term pain, dysfunction or severe complications. The cost of living with an untreated injury can be a financial burden - especially with loss of work, but can be equally devastating by preventing a person from living the active life they should be enjoying.
It was for these reasons Physical Therapy Ohio was developed. Physical Therapy Ohio offers people in Ohio the opportunity to receive a free injury screen and consultation by requesting a certificate online or by calling 1-888-958-3884, and scheduling a consultation at one of Accelerated's Ohio physical therapy locations conveniently located throughout Ohio in Franklin, Granville, Hilliard, Middletown, New Albany, Powell, St. Mary's, Sunbury and Westerville.
Accelerated's Injury Screen in Ohio includes:

Complimentary physical assessment by a licensed Physical Therapist
Thorough explanation of findings
Instructions for exercises
Explanation of self-care activities
Injury prevention consultation
Recommended options for treatment and course of care
Physician referral and physician scheduling assistance – if needed
Quitting has never been in your vocabulary; pain shouldn't be either – Accelerate your recovery with Accelerated.
About Accelerated Rehabilitation Centers:
Accelerated Rehabilitation Centers, a physical therapist owned and operated rehabilitation company that specializes in sports medicine and physical therapy services to help patients restore, maintain and improve their physical strength, performance skills and levels of function.