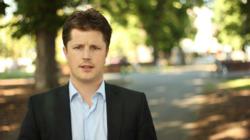 You're almost fighting with the platform that is YouTube because YouTube is essentially designed to keep people on YouTube, There is just so much information on YouTube that it's hard to move people from the platform to your own platform
Melbourne, Au (PRWEB) February 26, 2013
The Multimedia Marketing Show with Jake Hower recently released a podcast interview of James Wedmore on how he used YouTube to gain customers for his business.
Hower started by asking about how James became a YouTube marketing guru.
"I've spent the last five years playing around on YouTube and I have a film background so I teach people how to use YouTube, but more importantly, just how to use this medium of video to create a platform to create a brand behind it," answered James Wedmore.
"When we're on the camera and people give us their full attention, even if it's only for three minutes, then this celebrity effect does begin to take place. It transforms you into that authority. To me it transcends conversion rates and how many sales we can increase by adding a video. I can trump all of that stuff when I sit here and say I use video to create a brand that is more powerful than the next guy because he's got X, Y, Z conversion tweaks and opt-ins and split tests and stuff like that," he continued.
Jake Hower then asked how Wedmore was able to get viewers to get out of YouTube and go to his website.
"You're almost fighting with the platform that is YouTube because YouTube is essentially designed to keep people on YouTube. You've got all these other associated videos you can click on. There is just so much information on YouTube that it's hard to move people from the platform to your own platform. How do you go about doing that?" asked Hower.
"You give them your greatest stuff up front, a mini ah-ha, and then every single video I have, has a call to action at the end of the video. If I didn't give that ah-ha, no one takes the call to action, it's that simple. If all it is, is a two-minute sales pitch for why I'm the greatest and why I'm so amazing, no one cares and they don't take the next step," answered Wedmore.
Marketers who want to learn more tips and tricks on using YouTube to build their brand and sales funnel can listen to the in-depth interview at mshow.com/wedmore.