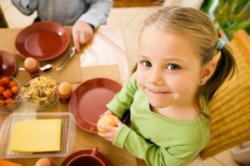 Get back to the ABC's of packing healthy lunches and snacks for kids.
Austin, TX (PRWEB) February 23, 2013
A small serving of good news came from the Centers for Disease Control this week about the reduction in the consumption of fast food in adults over the last decade.
According to a new survey from the CDC, adults have reduced their daily calorie consumption of fast food from 12.8% down to 11.3% over the last decade.
Dr. Katalenas explains in her new book, The Step Up Diet, that "logically, we would expect a poor economy to result in a reduction in food consumption and, therefore, a decrease in the number of overweight people. But in the United States, the increase in the price of high-quality foods due to economic factors may be contributing to increased consumption of low-quality foods. "
As the CDC study pointed out, as a person's income level raised, their consumption of fast-food decreased. This was true even among young adults.
While busy families rely on fast-food to cheaply feed their families while rushing from work, school, and home responsibilities, Dr. Katalenas believes that with a little planning, parents can stop their reliance on cheap fast-food.
In The Step Up Diet, Dr. Katalenas provides one week of kid-friendly recipes along with a grocery list to help parents quickly and efficiently get all the ingredients they need in one shopping trip. After purchasing all of the items on the list in her local Austin area grocery store the total cost of a week of healthy meals for a family of four was only $125.
In a recent interview with KXAN TV in Austin, Dr. Katalenas explained what a healthy diet should look like for children, maintaining that there are plenty of healthy options that can be substituted for the processed meals and snack food so prevalent today.
About Dr. Katalenas:
Dr. Marta Katalenas is a Board Certified Pediatrician, author and professional speaker on the subjects of pediatric health, childhood obesity and healthy eating. Her book, The Step Up Diet, From Scratch... The Quality, Quantity, and Timing Solution to Childhood Obesity, is available on Amazon.com. She is the owner of Pediatric Center of Round Rock, located in the Austin, TX metro area.