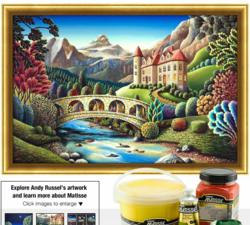 As the sole American distributors for Matisse products, we are proud to offer their new tube design
Raleigh, NC (PRWEB) February 26, 2013
Andy Russell is widely recognized as a master in acrylic painting, and he recently turned his brush Down Under with Matisse Acrylic Paints, a line of professional artist colors offered exclusively by Jerry's Artarama.
Matisse Acrylic Paints have proven to be a pleasure to work with in so many ways. They are of the highest quality, richly pigmented and creamy smooth and perfect for the professional artist," says Russell. "I use Matisse Structure Acrylics for a thick textured, bold impasto look and Matisse Flow Acrylics for the smooth, highly detailed results. They are also excellent for covering large areas."
Russell embarked on his artistic journey over 35 years ago, when he began having recurring dreams of vibrant and ethereal landscapes, which he then started translating into paintings of immense detail and glowing tones. He describes his painting style as "extended realism" – peaceful, utopian dreamscapes with unique foliage and amazing architecture. Russell's unique style is accomplished through multiple glazes and layers of acrylic paint, and he finds the Matisse line to be ideally suited to his painting technique.
"Matisse has everything I need from mixing mediums to varnishes, from Background Colors to Mix-In Dry Mediums. I have found that using Matisse Background Colors is great for covering large areas. I use a lot of phthalo blue in my skies, which is very transparent and requires at least six coats for my purposes. I have discovered I can use one coat of Midnight Blue Background color and only two coats of phthalo over that and get the same results. This not only saves money but also leaves me more time for the more creative parts of the work."
Matisse Derivan, an Australian-based color maker, has been crafting fine artists' paints for longer than Russell has been painting – since 1964. They use only the finest quality ingredients, including lightfast pigments and creamy acrylic polymer emulsion. All Matisse acrylic paints formulations are based on chemical know-how paired with cutting-edge technology to produce paints, mediums and additives of outstanding quality and permanence. It is this dedication to quality and attention to artists' demands that captures the hearts and brushes of artists like Russell.
"I plan on trying almost everything they offer as I go and can hardly wait to experiment in opening new avenues for creativity," Russell says. And he's in luck: Matisse have recently launched some exciting new tools for artists, including a generous 150ml tube for their paints with a convenient flip-top cap, and an innovative iPhone app that allows users to match colors in a photo to a specific shade of Matisse acrylic. Interested artists can find the new paint tube design at jerrysartarama.com, and the app in the iTunes App Store.
"As the sole American distributors for Matisse products, we are proud to offer their new tube design," says Michael Marchetta, Director of Marketing at Jerry's Artarama. "The 150ml size and flip cap were something artists had been asking for, and we're happy to be able to deliver."
Artist Andy Russell also has nothing but good things to say about Australia's premier paint line. "I am completely sold on Matisse Acrylics," he enthuses. "I highly encourage every artist, professional or pleasure painter, to experience these paints for themselves."
To learn more about acrylic dreamscape painter Andy Russell, visit his official website at http://www.andyrussell.com. To learn more about Matisse paints and mediums, visit http://www.jerrysartarama.com.
About Jerry's Artarama
Empowering artists for over 44 years. Jerry's Artarama prides itself on offering exceptional quality art supplies at everyday low prices. Providing artists with the best selection of paints, canvases, brushes, frames, papers, and art materials of all kinds is their passion and great service is their commitment.
MEDIA INQUIRIES
Michael Marchetta
(800-827-8478)
mmarchtta (at) jerrysartarama (dot) com