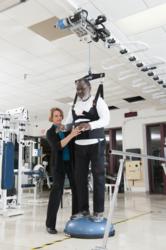 "I am excited that Aretech is now selling our product line directly since we have the expertise and experience that distributors cannot offer our customers," said Dr. Joe Hidler, CEO of Aretech, LLC.
Ashburn, VA (PRWEB) February 27, 2013
Aretech, LLC announced today it will be selling its product line directly to customers, including the ZeroG Gait and Balance System. ZeroG was developed by Joe Hidler, PhD in collaboration with team of physical therapists and scientists worldwide, and is currently being used in 33 centers in the United States and Canada.
"As the inventor of ZeroG, it is so humbling to see the technology I conjured up on the back of a cocktail napkin back in 2004 now being used by the leading rehabilitation centers in the United States and Canada. Well over 1000 patients have used ZeroG during their rehabilitation and nothing brings me more satisfaction than hearing about how much they loved using the system," said Dr. Joe Hidler, CEO of Aretech, LLC.
About The ZeroG Gait and Balance Training System:
Aretech's ZeroG Gait and Balance Training System, which is listed with the Food and Drug Administration, is one of the most advanced rehabilitation systems in the world. Using a patented robotic technology, ZeroG provides patients body-weight support as they practice walking, balance activities, and other Activities of Daily Living. The system monitors important information about the patient at more than 1000 times per second, so that if a fall is detected, ZeroG can safely catch them. And because the body-weight support system is mounted to a motorized trolley that rides on a customized overhead track, there are no barriers between the therapist and the patient. This truly encourages patient-therapist interaction. With a press of a button on a touchscreen computer or on an Apple iPad or iPod Touch, therapists can adjust the amount of body-weight support, patient fall distance, and safe walking speed in order to modulate the intensity and complexity of each training session.
Advantages of using ZeroG:

Patients can safely begin their walking therapy early after neurological and orthopedic injuries, with early and intensive therapy being the most effective at promoting recovery*.
The system provides the highest level of safety to the patient, removing the potential for fall.
The system also helps to reduce the risk of injuries to therapists
A single therapist can train even the largest, most impaired patients.
Since the system is ceiling mounted, subjects can practice obstacles such as stairs and uneven terrain, practice sit to stand tasks, and can use assistive devices.
ZeroG records training parameters such as patient walking distance, number of falls prevented, minimum & maximum body-weight support and total training time so therapists can track a patient's recovery.
In addition to ZeroG, Aretech will also be directly selling their other products to customers, including ZeroG-Lite and ZeroG-Passive. ZeroG-Lite is a treadmill-based gait training system offering many of the features of ZeroG. ZeroG-Passive is a patient safety device that provides patients with the confidence to practice gait and balance training activities.
About Aretech, LLC:
Aretech, LLC, headquartered in Ashburn, Virginia, was founded in 2008 by Dr. Joe Hidler. The company has a strong commitment to developing advanced rehabilitation technologies that will help enhance function and independence in patients after neurological and orthopedic injuries. Aretech continues to collaborate with physical therapists, physicians and scientists to develop and advance rehabilitation technologies. Additional information about Aretech, LLC can be found at http://www.aretechllc.com.
Horn SD, DeJong G, Smout RJ, Gassaway J, James R, Conroy B. Stroke rehabilitation patients, practice, and outcomes: is earlier and more aggressive therapy better? Archives of Physical Medicine and Rehabilitation. 2005, 86(12 Suppl 2):S101-S114.