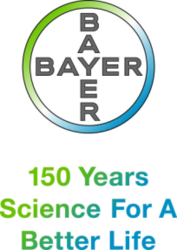 "When used in combination with Balance® Bean herbicide, Balance GT will offer growers an effective weed control system. Balance GT will enable growers the opportunity to achieve excellent weed control with strong yields."
RESEARCH TRIANGLE PARK, N.C. (PRWEB) February 26, 2013
Bayer CropScience and MS Technologies LLC today announced plans to market a new soybean trait called BalanceTM GT* (Event FG72) – a dual herbicide tolerant trait stack featuring tolerance to both glyphosate and isoxaflutole. Bayer CropScience and MS Technologies intend to broadly license Balance GT soybeans. Balance GT soybeans will be available in high-yielding genetics in many maturity groups in the US in 2015, pending regulatory approvals.
"As growers look to expand their soybean weed control options, we at Bayer CropScience are proud to be collaborating on the development of this new dual herbicide tolerant trait," said Allen Gent, Bayer CropScience US Soybean Product Manager and Strategy Lead. "When used in combination with Balance® Bean* herbicide, Balance GT will offer growers an effective weed control system. Balance GT will be offered in elite soybean genetics, thus enabling growers the opportunity to achieve excellent weed control with strong yields."
When growing Balance GT soybeans, growers will have the flexibility to use both glyphosate and isoxaflutole during burndown, pre- or post-emergence to achieve broad spectrum weed control of both grasses and broadleaf weeds. Rotating crops, herbicide modes of action and herbicide tolerant traits are good stewardship practices, and three of the best ways growers can achieve effective weed resistance management.
"MS Technologies is also excited to be collaborating on the development of this new option in weed control built upon high-yielding elite soybean genetics," says Lauren August, MS Technologies Brand Manager. "We know that even the best traits are of little use without yield, which is why we have evaluated hundreds of thousands of lines to be able to soon offer growers the highest-yielding elite genetics with this new dual herbicide-tolerant trait for simple, proven weed control."
Bayer CropScience and MS Technologies are working together to successfully introduce new soybean products that enable sustainable, high value returns for growers in a challenging global market and climate.

Balance Bean and Balance GT are not registered for sale or use in the United States. Balance Pro and Balance Flexx are not registered for use on commercial soybeans.
About Bayer CropScience
Bayer is a global enterprise with core competencies in the fields of health care, agriculture and high-tech materials. This year the company is celebrating 150 years of Bayer – consistent with its mission "Bayer: Science For A Better Life". Bayer CropScience, the subgroup of Bayer AG responsible for the agricultural business, has annual sales of EUR 7.255 billion (2011) and is one of the world's leading innovative crop science companies in the areas of seeds, crop protection and non-agricultural pest control. The company offers an outstanding range of products including high value seeds, innovative crop protection solutions based on chemical and biological modes of action as well as an extensive service backup for modern, sustainable agriculture. In the area of non-agricultural applications, Bayer CropScience has a broad portfolio of products and services to control pests from home and garden to forestry applications. The company has a global workforce of 21,000 and is represented in more than 120 countries. This and further news is available at: http://www.press.bayercropscience.com.
About MS Technologies
MS Technologies LLC is a leading trait, technology and soybean genetics provider. MS Technologies features a portfolio of in-house traits, as well as wide access to other traits and technologies through collaborative agreements with other parties. Follow MS Technologies on Twitter (@mstechseed), visit their Facebook page or view their website at: http://www.mstechseed.com.
For additional information and background on other sustainability initiatives please visit http://www.bayercropscience.us/our-commitment/bayer-initiatives . To learn more about Bayer CropScience, visit http://www.bayercropscience.us or contact your local sales representative for product information.
###
Contact:
Bayer CropScience Media Hotline, 1-877-879-6162
USA-BCS-2013-0047
Find more information at http://www.bayercropscience.us or on Twitter by following @Bayer4CropsUs.
Forward-Looking Statements
This release may contain forward-looking statements based on current assumptions and forecasts made by Bayer Group or subgroup management. Various known and unknown risks, uncertainties and other factors could lead to material differences between the actual future results, financial situation, development or performance of the company and the estimates given here. These factors include those discussed in Bayer's public reports which are available on the Bayer website at http://www.bayer.com. The company assumes no liability whatsoever to update these forward-looking statements or to conform them to future events or developments.