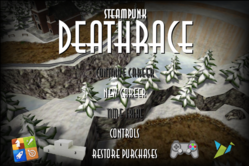 Really fun game worth checking out! ~NotRonald
London, Ontario, Canada (PRWEB) February 27, 2013
Slightly Social has partnered with The Amazing Mitchell Brothers to announce the successful release of their first joint title, Steampunk Death Race.
Inspired by games like Rock n Roll Racing and Death Rally, this post apocalyptic game was built in OGRE3D and took over 2000 man hours to complete.
"With unique steam-powered weaponry and a story that takes place in a post apocalyptic war-torn landscape, Tristan and Ethan Mitchell were able to create something from their basements, working nights after their full time jobs, that looks like a big budget title from a triple A game studio! We are lucky to have been able to hitch up with these guys. We actually met at a birthday party 6 months ago, they showed me the demo, which I got addicted to and played for about 10 hours straight the first day...that quickly transitioned into a partnership." says Brad Mills, CEO of Sligthly Social.
The game features an in game economy where players can win credits and use them to buy & upgrade new hover cars. Steampunk Death Race The player has one goal; outmaneuver and destroy other death race opponents with machine guns, land mines through an urban industrial landscape to claim victory.
"This is a prime example of manifesting your own destiny, these guys stepped out of their comfort zone to build something completely new and unknown for them. They had no game building experience, they were engineers building software for oil and freight companies, but look what they did with passion and late nights. I really hope to bring our marketing muscle to the table and make this a success for the Amazing Mitchell Brothers and their families."
The controls have a slight learning curve, but after a couple of races most players see the advantage over games like Death Rally where you have to constantly have your thumb on the screen to steer.
On the subject of thumb fatigue, developer Ethan Mitchell says, "despite countless explosions and machine gun firings, no thumbs were hurt in the making or play testing of this game!"
----
Slightly Social, an independent gaming startup company based in Canada, is very pleased to announce that you can get Steampunk Death Race as a free iPad or iPhone download exclusively from the App Store. It is compatible with iPhone, iPod touch and iPad and requires iOS 4.3 or later. This app is optimized for iPhone 5 & Ipad 3.
Connect with Slightly Social on Facebook:
https://www.facebook.com/slightlysocial
Download Steampunk Death Race Free from iTunes:
https://itunes.apple.com/ca/app/steampunk-death-race/id552764960#