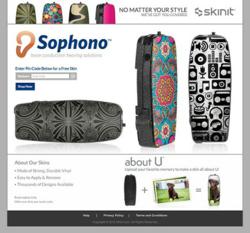 Boulder, Colo. (PRWEB) February 27, 2013
Users of the abutment-free, implantable bone conduction hearing systems from Sophono, Inc., not only are hearing better, but they're also looking better, having more fun and protecting their devices at the same time.
Through July, each Sophono Alpha 2™ System will ship with a card redeemable for a free pair of Skinits. The form-fitting device skins, from Skinit, Inc., provide a simple way to personalize the Alpha 2 and protect it from everyday wear. "Skinits are a fun way to protect devices and really make them your own at the same time," says Jim Kasic, president and CEO of Sophono. "People have been using them for cell phones, computers, game devices and more. This is a great time to bring them to users of the Sophono Alpha System."
The Sophono Alpha 2 System from Sophono is the only abutment-free, implantable, bone-anchored hearing system on the market, treating those with conductive hearing loss, mixed hearing loss and single-sided deafness. The Alpha 2 can help children with aural atresia and microtia, individuals with chronic inflammation or infection of the ear canal, and others unable to wear traditional hearing aids. Fitted to the patient's head with the use of small, implantable magnets, the system eliminates the problems associated with other bone conduction hearing systems. These include drilling a hole in the patient's skull and installing a very noticeable screw that pokes out through the skin on the side of the head.
Using a thin protective skin applied directly to the Sophono Alpha surface, Skinits mold exactly to the shape of the Sophono Alpha device. Made of strong, durable vinyl, Skinits are easy to apply and remove. Sophono Alpha 2 users can select from thousands of Skinit designs, including top brands in sports, entertainment, and art, or create their own designs with photos, images, text and symbols. The skins, with vivid, photo-quality, glossy printing lasts for years, according to Skinits. When users are ready to change their style, they can simply pull off the old skin and replace with a new one.
"The Sophono Alpha 2 represents the next generation in bone conduction technology, and Skinits represent cutting-edge style, design and protection," says Jim Kasic, president and CEO of Sophono. "With Skinits' personalization, both Alpha 2 users – both adults and children – can have fun and truly make the devices their own."
Sophono Alpha 2
The new Sophono Alpha 2 System adds several key features to the company's previous Alpha 1 System. According to Kasic, the Alpha 2 is even more attractive to physicians, audiologists and patients, with the following advanced features.

Symmetric function – One device fits either ear.
Dual microphone directionality – Reduces amplification of background noise for better speech understanding in noisy situations
Tamper-proof battery door for enhanced pediatric safety
Integral DAI connection for FM systems, personal music players, mobile phones and other similar systems
Sophono, Inc. (http://www.sophono.com)
Sophono, Inc., is a medical device manufacturer specializing in implantable, bone conduction hearing devices. The company's products are designed for individuals suffering from severe to profound hearing loss or impairment. The Sophono Alpha 2™ System is the only abutment-free, implantable, bone-anchored hearing system available today. Treating those with conductive hearing loss, mixed hearing loss, and single-ear deafness, the FDA-cleared Alpha 2 device eliminates the problematic abutment of devices by using magnets to affix external sound processors.
Sophono corporate headquarters and manufacturing operations reside in Boulder, Colo. The company maintains an office in Germany, works with more than 20 distributors, and is actively selling in more than 30 countries.
(end)