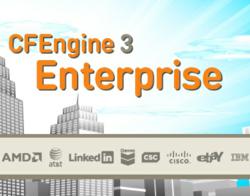 PALO ALTO, CA (PRWEB) February 26, 2013
CFEngine, Inc., a leading provider of Configuration Management Software, today announced that it has named Adrian Hall to be its President and Chief Executive Officer. As a senior global executive with a 20-year track record in both public and private technology companies, Hall has defined and built enterprise, consumer and mobile/communications markets. In his most recent role he served as President and CEO of Global Strategic Consulting, advising venture-backed technology companies, venture capital organizations and technology banking firms. Prior to that, Mr. Hall was chief operating officer of Bytemobile, Inc. a market-leading mobile infrastructure company, acquired by Citrix. Previously, he spent 12 years at Hewlett-Packard Company, based in both Europe and North America. Hall has also held executive positions at Good Technology and FlyteComm.
"CFEngine has reached an important transition point in its history. The company is experiencing rapid growth, doubling its user-base last year and signing new Fortune 1,000 companies to roll out CFEngine to automate their large scale IT-operations," Chairman of the Board, Haavard Nord, stated. "Adrian's proven leadership skills, his experience with high-growth companies, and his extensive background in Enterprise Software and Mobile Markets make him uniquely qualified to lead CFEngine through its next phase of growth."
Commenting on the announcement Mr. Nord further stated, "On behalf of the Board of Directors, we would like to thank founding CEO and co-founder Thomas Ryd. We are fortunate to see Thomas continue in an executive role at CFEngine to help its growth."
Transition in IT Infrastructure Management
CIOs and their departments are in transition as they are under pressure to become business enablers, delivering updates to their infrastructure faster and more reliably, while integrating cloud and mobile technologies. Highly automated IT-operations are becoming a prerequisite for IT-organizations to stay competitive. CFEngine is uniquely positioned to lead IT-organizations through this transition.
Among the benefits customers obtain from using CFEngine to manage their IT Infrastructure, are increases in:

Productivity: Provisioning software-defined servers in minutes instead of days, automatically deploying software patches and continuously delivering application updates. CFEngine engineers often manage 1,000 servers or more per person, more than 10x the industry average.
Quality: CFEngine's continuous management helps to avoid configuration drift, which in complex systems can impact up to 5% of servers daily, and so it helps to avoid system outages and to sharply reduce the volume and cost of support tickets.
Security: CFEngine's unmatched security record and its ability to provide billions of real-time compliance checks daily, enables better security management and faster and successful compliance audits.
"CFEngine has developed a market leading reputation and user base. Its products are in use on over 10 million servers in more than 100 countries, including at many Fortune 1000 financial, retail and technology companies," says Adrian Hall. "This reputation is based on superior scalability, security and flexibility; trusted by global enterprises managing IT infrastructure of tens and even hundreds of thousands of servers with CFEngine. I am delighted to have the opportunity to lead CFEngine and continue to build a world-class organization to support the potential that this technology offers to the market."
About CFEngine
At CFEngine, our mission is to help people manage a world of smart infrastructure. We enable CFEngine users to become agents of change and innovation, and not have to constantly fight IT bottlenecks and outages. Our lightweight and de-centralized architecture lets engineers build and manage IT operations of any scale and complexity. Our continuous configuration ensures that IT systems do not drift and are always maintained at - or converging to - their desired state. For more information, please visit us at cfengine.com.