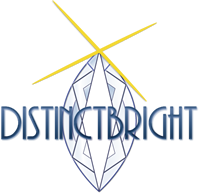 Distinct Bright is non-toxic, has no harmful fumes and contains no allergens. Also, a great way to clean Pandora bracelets.
Miami, FL (PRWEB) February 28, 2013
Although diamonds are the hardest natural substance on Earth, it's surface, while not pours, attracts excellent amounts of dirt and grime. Most Women who wear diamonds find that even the brightest of cut diamonds, often get dull looking. Oil deposited from the mere touch of human skin, lotion, or hair product, can cause dirt to collect, making this sparkly gemstone quickly lose its appeal.
The nonprofit Gemological Institute of America (GIA) – regarded as the world's foremost authority in gemology – offers tips on diamond care in the article, but leads little insight in to the damage that cleaners are doing to other parts of the jewelry and setting.
The article offers "A simple plan to keep your diamond jewelry always looking beautiful is to soak the diamond in an ammonia-based household cleaner (such as window cleaner) overnight, once or twice weekly." , but neglects to directly mention that when using household cleaners, many are unaware of the chemical side effects. Some cleaners have corrosive materials that harm human skin, and after prolonged use can deteriorate estate jewelry, and the setting.
Fernando Perez, a representative for Distinct Bright is not agreeing with the use of household chemicals to clean jewelry. The use of household cleaners erode some of the metals used in diamond settings, and can loosen prongs, or even dissolve the metal completely.
Perez Also adds, "Never use a cleaner containing bleach, or scrubs. Toothpaste, as the article mentions is a harmful abrasive and should not be used, but toothpaste is not meant for jewelry, or to remove oil and dirt. Using a product that is organic, like the jewelry itself is the best way to clean gems and keep those who come in contact with them safe." Mr. Perez suggest to avoid all chemical base products and concentrate on ecological friendly jewelry cleaner products that are tough on dirt but gently on the skin and has no harmful fumes.
Distinct Bright is an advanced cleaner that uses nature's power to clean, sanitize and protect personal items like jewelry. Distinct Bright contains no ammonia or harmful chemicals and is easy on the skin. Distinct Bright is non-toxic, has no harmful fumes and contains no allergens.